Savoring Old San Juan With Spoon Food Tours
The green plantains are being smashed as we speak, enveloped in the vibrant yellows, oranges and reds of the buildings that surround us, as Pablo Garcia, our guide—more like an old friend we're visiting at this point—explains why the cobblestone beneath our feet is glimmering with a faint metallic blue.
"These are known as adoquines" he says. "The bricks hail all the way over from Liverpool, England. These were used from 1891 to 1895, and the blue colors are due to the fact that they were made by the iron smelting industry.
"The top half-inch is iron slag fused to the top," Garcia added.
Fascinated, we stroll along with our heads bowed, snapping pics of the iron-clad bricks as we go, before entering a cozy restaurant where we're greeted like family, with open arms and warm smiles.
The scent of fried plantains fills the room, and as we sit down, we're presented with a bowl of mofongo.
This traditional Puerto Rican dish starts with fresh green plantains that are smashed and fried, and in this case, topped with chicken in a garlic cream sauce.
It's the fourth dish we've tasted so far, but somehow, we're hungry for more and can't wait to dig in.
Garcia, imparting his deep passion for cuisine and history, has that effect on you. He's the manager of Spoon Food Tours, and we're on the Old San Juan Walk & Taste Tour, lost in his captivating explanations.
Strolling Through Old San Juan
Spoon Food Tours is a family owned company specializing in a variety of local food experiences, including customized options for groups.
For our three-hour afternoon program, we started at Quincentennial Square/Plaza in the northwestern quadrant of Old San Juan, where Garcia relayed the symbols of its monuments and statues.
From there, he escorted us on a wonderful tour highlighting some of San Juan's most iconic sights, including the Ballaja Military Barracks, Castillo San Felipe del Morro (the Castle of St. Philip), the Santa Maria Magdalena de Pazzis Cemetery, in addition to some of its iconic dishes at inviting local establishments.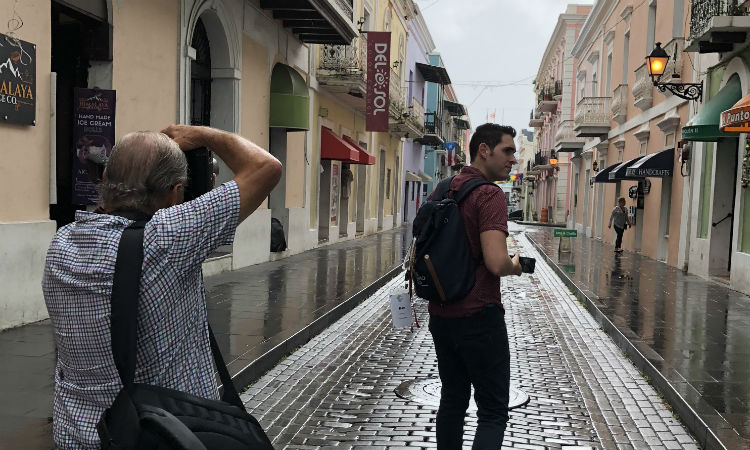 At La Taberna Lupulo, we learned how craft breweries started on the island, tasting flights of locally brewed beer while enjoying a classic Cubano sandwich.
At Deaverdura, we were treated to General Manager Virna Brull's family recipes such as pernil, which is roasted pork served with rice and beans, as well as locally sourced fresh juices such as guanabana soursop, cherry, tamarind and coconut.
After enjoying our mofongo at Hecho en Casa, we rounded out the delicious day with a stop at Caldera Cafe, where we sipped some coquito, a traditional holiday drink with rum, coconut milk and in this case a bit of locally brewed coffee (Pictured below: Jose Arana of Meet Puerto Rico holding coquitos on a plate).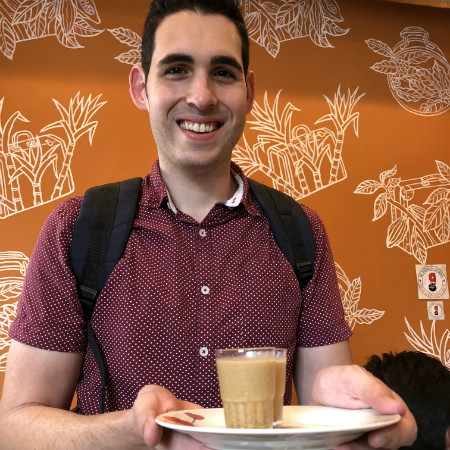 Spoon Food Tours specializes in delivering personalized attention to small groups of up to about 15, but it will add more guides for large corporate groups.
For more info, visit www.spoonfoodtours.com.
Additional Puerto Rico Content: