Q&A: SF Travel CEO Speaks Out on Safety Concerns
Meetings Today reached out to Joe D'Alessandro, president and CEO of San Francisco Travel, to discuss a major medical association's decision to opt out of a longstanding contract with the city due to open drug use on the streets and other safety concerns voiced by those visiting the city for meetings.
Meetings Today (MT): The media attention surrounding the issues of homelessness and open drug use in San Francisco appears to be growing right now. Why do you think the media coverage has suddenly expanded and do you think these issues have gotten worse in the past couple of years? 
Joe D'Alessandro​: On the issues of homelessness, this is a national problem and we're seeing an increase in cities all over the country.
Our numbers in San Francisco have actually been stable over the last few years. This incredible economy that we're experiencing right now in San Francisco and in the whole Bay Area is escalating prices. The cost of living is very high and it's causing a lot of challenges that the city has to deal with.
Homelessness has been a problem in San Francisco for many, many years. It's not new, but it had become more visible in the last few years, however I do already see some positive changes. We're seeing cleaner streets and people are getting the help that they deserve.
Part of the problem is that our social services systems were overwhelmed because so many people had come to San Francisco seeking a new life without a job and without a home because we do provide these services for people more than most cities do.
I think there has been a focus and a priority of interim mayor Mark Farrell, who will be mayor until this Wednesday (July 11, 2018), to make the streets as safe and secure as they ever have been.
Our levels of violent crime are very low. In fact, for the first six months of this year, the homicide rate was at a historic low—a level we haven't seen in decades. In terms of safety, San Francisco is very safe.
In terms of some of the issues that we don't want to see, hopefully that can be corrected in the near future.
MT: You have been vocal in the media about the challenges facing San Francisco, especially when it comes to drawing in and retaining groups, and adamant that something needs to be done. What made you decide to [speak out] and have you received any feedback—good or bad—because of it?
D'Alessandro: It's a risk for someone like me to be vocal about these issues to the media, but travel and tourism is San Francisco's number one industry and plays a huge factor in the city's economy. I thought it was time for us, the most important industry in the city, who represents the voice of the visitors coming to San Francisco, to speak up. It was important to have the voice be heard by elected officials, by the business community and by community groups, so that it can become a priority across the board.
This was an election year in San Francisco for a new mayor and all of the leading candidates prioritized this as the key issue and I think one of the reasons was because of the voice we had and the focus we were able to bring to it. A lot of times, in other destinations, the hospitality industry would be very low-key about this, but we're not only marketing San Francisco, but we're wanting to make sure that we enhance and improve San Francisco as a destination. In order to do that, sometimes we have to speak up.
The feedback has been overwhelmingly positive from the hospitality industry, from elected officials, from the city-at-large, and I think it's because we're coming at it with compassion, because we believe this is the city of St. Francis. Our message is that people need to be helped, but at the same time, we have a zero tolerance position on illegal behavior on the streets. That perspective is maybe unique to the hospitality industry because we want to be welcoming, but at the same time we want the experience on the streets to be positive.
What's really important about this and why I chose to speak out about it, is that we are extremely fortunate in San Francisco. So many other destinations around the world would love to have our scenic beauty, our topography, the diverse neighborhoods, the art and culture and the culinary experiences.
We have all these incredible things, but the problems that we have on the streets are very fixable. They can be fixed in a very short time. Other places can't fix the weather, they can't create huge arts and culture scene, or the culinary scene that we have.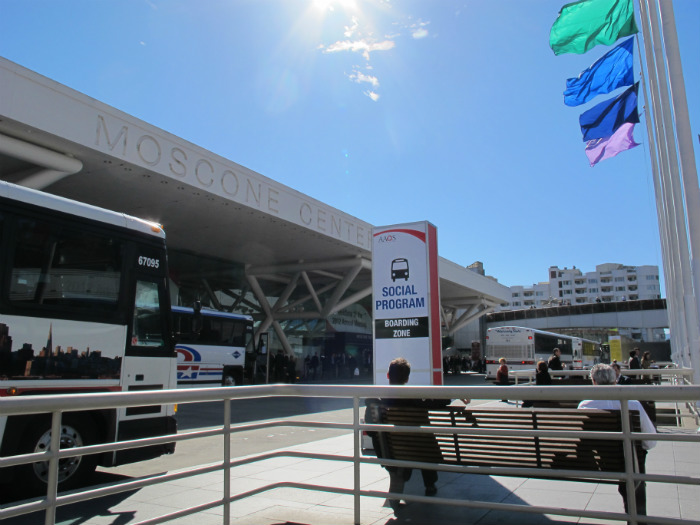 San Francisco's Moscone Center Exterior View, Shuttle Pick-Up
MT: Mayor-elect London Breed has said she is going clean up the streets and try and find ways to address the homelessness and drug abuse issues in San Francisco. Have you had any communication with the mayor-elect and if so, do you feel that she will follow-through on her words?
D'Alessandro: We are very excited about mayor-elect Breed. We've know her for a long time and she knows the hospitality industry very well. She has made it clear this is a priority for her—dealing and addressing the needs of the people on the streets and fighting for permanent housing for people on the streets, but also making sure the streets are clean and comfortable.
Mayor-elect Breed spoke two weeks ago at our annual lunch in front of 1,200 members of the hospitality industry and she said this is her priority and she looks forward to coming back at our annual lunch next year and talk about what she's been able to achieve.
With the dedicated focus work of mayor-elect Breed and other elected city officials, the hospitality industry, the private sector and the non-profit sector, I believe that we will fix it and I believe in a year from now, and years from now, you'll see a much better San Francisco that a lot of cities will be looking at and figuring out how they can follow our lead in helping people and at the same time making the streets positive.
MT: There was news last week that a major medical association decided against holding their convention in San Francisco after many years of doing so, due to safety concerns, among other issues. Was there anything beyond safety, such as expense, etc., that cause them to move the meeting?
D'Alessandro: A group that comes to [San Francisco] regularly, and in fact are booked for two additional years in San Francisco, chose another city for this one year.
We were bidding against four other cities and they chose one of the other cities. One of the reasons they gave us was they thought the conditions of the streets was not what they wanted to see. We met with them and we've told them all the steps we've taken and are taking to improve the situation, including adding 250 more police officers on the streets, which the board of supervisors just voted last week.
This group feels encouraged because they will be meeting here two future years and they feel good about the steps we're taking. We want to make sure that not only that group, but all the groups in San Francisco have a positive experience when they come here. That is exactly the reason that we're speaking up about it because we want to see change and we want to see change quickly.
The main reason I think people hesitate on San Francisco is because it is an expensive destination. We realize that and we try to work around it, but some groups find it too expensive for them, so I think that's part of it. Availability is another factor. We have one of the highest year-round occupancies in the country, if not the world, and we're anticipating our year-round occupancy to be over 85% this year, which is huge.
We're at historic levels of growth and historic levels of visitation and of spending in San Francisco and we've never experienced this before.
Sometimes groups can't get in, or can't get the package they need, and we work closely with all groups to hopefully help them find the time of year, the space and everything they need to make a San Francisco meeting positive for them. And just like any destination, we can't win them all.
We know we have a track record of attracting record-breaking audiences in San Francisco because people from around the world like to come here and so although we can't win them all, we are focused on what we can do to win the vast majority of them.   
MT: Safety and security is a huge area of concern for meeting and event planners right now (and it certainly will continue to be moving forward). Do you feel that San Francisco, as it stands right now, is a safe destination for attendees to explore? What action is the city taking to keep visitors safe?
D'Alessandro: Safety is a concern anywhere in the world. Again, we have coordinated activities with our police departments to step up police presence around Moscone Center and around nearby hotels.
Unlike other destinations, here in San Francisco people tend to be on foot to get back and forth from the convention center to the hotel because everything is close and walkable.
We want to make sure that people are safe and feel secure. We have been very fortunate and proud of our low crime statistics and we want to make sure that continues. We know it's important to planners and delegates, so we want to make sure we can prove that San Francisco is in fact a safe place to visit.
MT: What message would you like to get out to meeting and event planners who may be reading the recent coverage of San Francisco's issues and the convention that opted to move to Los Angeles?
D'Alessandro: The thing is that a lot of this media attention was created by the hospitality industry itself. We wanted to make sure our voice was heard, especially with the election this year and we feel that were were very successful. The message was heard. This is a priority and I am convinced that the street situation in the city will dramatically improve in the next few years.
As the mayor-elect Breed said, a year from now we're going to see some marked improvements. The key thing to understand is that we have this incredible landscape, we still have the Golden Gate Bridge, the cable cars, the great restaurants and shopping. We have diverse neighborhoods and our unique history.
This is all the same and this is the reason people come to San Francisco, but we want to make sure that every little aspect of their experience when they come is positive.
Click here for more details on the convention that opted out of San Francisco.