Q&A: Liz Erikson Marnul (Family History in Hospitality)
I had the privilege of meeting and serving with Liz (then Erikson) on the Board of Directors of the Potomac Chapter of MPI in the '80s. I view her as a pioneer in women's rights for our industry--one of the woman who, then and later, was great at her job in sales and a stalwart promoter of our profession by her activity and involvement in industry activities.
I confess now, though I didn't say it then, that I was terribly intimated by Liz's experience and strengths! She did nothing to make anyone feel intimidated. She was then as she is now kind and giving of her time and expertise. And her laugh! Oh, her laugh was such a joy to experience! I am grateful she, now retired, was willing to respond to these questions.
Liz Erikson Marnul
Liz Erikson Marnul is a third generation Californian who grew up in San Francisco. She attended Lowell High School and during that time worked part time as a waitress at a local soda shop after school where, she said, she really enjoyed the interaction with customers and serving them meals.
A veteran of the hospitality industry with a sales career that spanned over four decades, 39 of those years in various sales capacities with Fairmont Hotels & Resorts, which is now part of ACCOR Hotels, Liz retired on December 31, 2013, from her role as executive director of Meetings & Incentives-North America for Fairmont-Raffles-Swissôtel. In that position, Liz oversaw Global Sales for North America.
Liz has been well-honored by the hospitality industry:
2010: Named Supplier Partner honoree with the Professional Achievement Award from PCMA.
2013: Inducted into the EIC Hall of Leaders.
2013: Presented with the Life-Time Achievement Award from ASAE.
In retirement, Liz, a widow living in Florida, serves on several boards and committees for the Southwest Florida Symphony Orchestra, the Southwest Symphony Society and PEO Chapter DF, and is an active Elder at Faith Presbyterian Church.
Joan: We first met in the early '80s when I became active in PMPI. You were such a mentor to me and so many. And until you were honored by PCMA, I had NO knowledge of [or maybe I'd forgotten!] your grandmother, clearly a trailblazer in so many ways! Please tell us more about Francis Lauretta Erikson who was a GM in San Francisco--when, where, how, and for how long, and what she told you about the experiences of a woman GM at that time.
Liz: In my senior year of high school, I informed by parents that I wanted to go to a hotel and restaurant school when I graduated. I was accepted at San Francisco City College, Hotel & Restaurant Management School. It was a two-year program. There were 200 men and five women in the program when I attended. The stories I could tell….
We were very fortunate as the local hoteliers supported the school and our guest lecturers were industry giants--Richard Swig, Henry and Werner Lewin, and Paul Handlery, just to name a few.
During college I was hired by Paul Handlery to work as an information clerk on the front desk of the Handlery Hotel. After graduation, I became the hotel's reservation manager. I held several positions in the next six years and then joined Fairmont in 1975.
My grandmother died in 1953 when I was just 5 years old. Though I never had the opportunity to learn about my grandmother's life directly from her, I enjoyed the stories my father shared with the family.
My grandmother, Frances L. Erikson, was manager of the beautiful new Wiltshire Hotel in San Francisco (now Campton Place) from, I think, 1916 to 1920. According to the Hotel and Apartment Journal, which represented the hotel and apartment Interests of the Pacific Coast, she was "one of California's most successful Women Hotel Operators."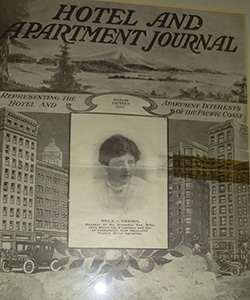 Joan: How did your grandmother's work influence you to go into hospitality? Did you ever want to do other work? If so, what persuaded you to be part of this industry?
Liz: Through the stories my father told me about his mother. In 1902 she was in Alaska and worked as the secretary for the Consulate General for the territory of Alaska.
She worked for the San Francisco Chronicle as a reporter from 1904-1908 when it was run by M.H. De Young. Then in 1915 she managed the international exhibits for the World's Fair that was held in San Francisco. After that she went into the hotel business. [She led a] crazy and interesting life. [After that] she owned and managed a printing company.
Joan: Many of us saw you as one of the strongest people and certainly strongest women in this industry that was and is still heavily men-at-the-top. How did your grandmother's experiences help guide you as you maneuvered a world where men were in charge?
Liz: My grandmother only had one son, my Dad, John Erikson. My grandfather and grandmother met in Alaska in 1902 and married in 1907. She gave birth to my dad in 1908. Their marriage lasted a lifetime, though they did not live with one another for more than four years. He was a gold miner and she was a savvy business woman.
She raised my dad by herself. My father tells the story of his mother being strong and a self-motivator. He shared with both my sister and me that we could work in any career we wanted as long as we were passionate and willing to learn.
Joan: Finally, two more questions:
For women today, what is your best advice for leadership and strength in an industry that still has men in the majority of leadership roles?
Your best advice to others who have family or close friends who want to join us in hospitality and how to do so and why.
Liz:
a. My advice to women is to get the best education they can afford. Be willing to start at ground zero, understand and accept that anyone in our industry needs to have a "servant mentality," and our industry is open 24 hours a day so don't expect to work a 9-5.
b. If you are passionate about your career, and care about your guests, you will exceed and break through "glass ceilings." Don't let people take advantage of you. Stand up for what is right and don't be afraid of getting fired if you are speaking the truth.
Related Reading From the September 2018 Edition of Friday With Joan
Click here to view additional content in the 09.07.18 Friday With Joan newsletter.