Southwest Florida Boasts Off-Site Venue Variety for Groups
All over southwest Florida along the Gulf Coast, historic venues and other enticing spots abound to host groups.
From the European-inspired Ringling Museum of Art with its views of Sarasota Bay to the 1908 Heitman House in Fort Myers on the Caloosahatchee River, to the NGALA Wildlife Preserve in Naples, a variety of sites offer memorable settings for once-in-a-life time events. 
Sarasota
The name Ringling rightly conjures up visions of "The Greatest Show on Earth," the circus started by John Ringling and his four brothers. What most people don't know is the circus and other entrepreneurial endeavors made John one of the richest men in the U.S. at one time with an estimated fortune of $200 million. 
In the early 1900s, John and his wife Mable purchased land in Sarasota and decided to build a house in what became their winter haven. Mable wanted the house in a Venetian Gothic style of a palazzo in Venice, Italy. With views of the Sarasota Bay, the $1.5 million, 36,000-square-foot mansion was built. 
Today, the opulent Ca' d'Zan, or "House of John," serves as a backdrop for intimate events on the Terrace for up to 250. For larger groups, The John & Mable Ringling Museum of Art Courtyard with its Renaissance-style architecture and gardens—including a replica of Michelangelo's David— can accommodate up to 800. 
"We offer impressive outdoor venues for corporate gatherings in the Museum of Art Courtyard or Ca' d'Zan Terrace," said Christina Fraser, assistant director of events. "Tibbals Learning Center is perfect for a smaller crowd desiring a circus theme." 
Another venue, the Marie Selby Botanical Gardens, is a 15-acre bayfront property located near hotels and downtown Sarasota overlooking the Sarasota Bay. The Gardens offer a variety of rental options, including indoor and outdoor space for groups large and small.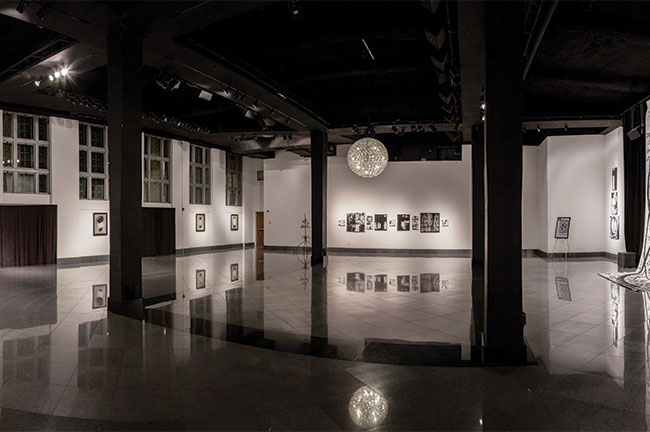 Sidney & Berne Davis Art Center, Fort Myers
The Christy Payne Mansion on property is listed on the National Register of Historic Places and offers a variety of room types and sizes for any function or occasion.
The Great Room by the Bay features 60 feet of glass windows showcasing a beautiful bay view. Rentable outdoor spaces include the Great Lawn, Banyan Grove, Children's Rainforest Garden and Schimmel Pavilion. 
Fort Myers/Sanibel
"More and more of our meeting planners are looking to add an experiential component to their events," said Jill Vance, director of sales for the Beaches of Fort Myers and Sanibel Visitor and Convention Bureau. "A common trend is to hold an off-site event at a venue rich in history and culture."
One venue in particular fits the bill, according to Al Mueller, CEO at Creative Events & Rental in Fort Myers. 
"We've done events at the 1908 Heitman House right on the Caloosahatchee River," he said. "Guests are brought back to a different era when they walk through the doors." 
The grounds and wraparound porch provide a great venue for upscale events. Events include dinner and seating for up to 250 and 300 for a cocktail reception. 
The Mound House museum on the Estero Bay provides a picturesque setting for special events. Mound House was named for the mounds of shells built up as protection from high tides and hurricanes by the Calusa Indians 2,000 years ago. The first structure on the mound was built in 1898 and expanded in 1906.
From 1914 to 1916 it was called the "Bayview" post office, and during WWII the property served as a military R&R facility. Today, visitors can go inside the mound or walk around the 400-foot winding pathway where guides talk about the native landscape. 
In the downtown Fort Myers River District, the Sidney & Berne Davis Art Center can host private events in the 10,000-square-foot, two-story Grand Atrium or groups can use the conservatory for a cocktail reception or the Capital Gallery for up to 150 guests.
"The Sidney & Berne Davis Art Center can handle up to 500 guests for events depending on the setup and configuration of the room," said Jim Griffith, president/executive director. "We also have smaller breakout rooms and additional galleries available. We are currently building our rooftop sculpture garden, which will accommodate 200 guests with food and beverage capabilities."
Also in Fort Myers, The Alliance for the Arts' Margaret Morrow Frizzell Amphitheater & Grounds seats up to 1,500 people, while its Art Exhibition Galleries space works well for stand-up receptions for up to 200.
Port Charlotte/Punta Gorda 
"The Punta Gorda/Englewood Beach area features a wide variety of enticing activities from which meeting planners can choose," said Sean Doherty, interim director of tourism, Punta Gorda/Englewood Beach Visitor & Convention Bureau. "From active outdoor pursuits to venues such as Muscle Car City, Fishermen's Village and Peace River Botanical Gardens, all offer unique off-site spaces capable of hosting memorable receptions, teambuilding activities or other functions." 
Bill Klossner, president of the 27-acre Peace River Botanical & Sculpture Gardens said that groups of up to 100 have done "wine and wander" tours surrounded by colorful flowers, greenery and outdoor sculptures from all over the world. 
"We have works from modern artists from China, Turkey, Indonesia and a few pieces from Carole Feuerman, famous for her hyperrealism," he said. "We also just hosted a retreat for 20 board members of a nonprofit in our community center." 
Naples
"Arts and cultural venues in Naples and Marco Island are easily accessible from area resorts and hotels, and offer interesting settings that may feature local history, beautiful artwork or unique venues," said Debi DeBenedetto, group sales and marketing manager for the Naples, Marco Island, Everglades CVB.
"One of our most memorable venues is NGALA, an African-themed venue with authentic dancers and interaction with animals including giraffe and rhinoceros," she explained. "We also have The Revs Institute, one of the most historically significant automobile collections in the world housed in a beautiful museum setting."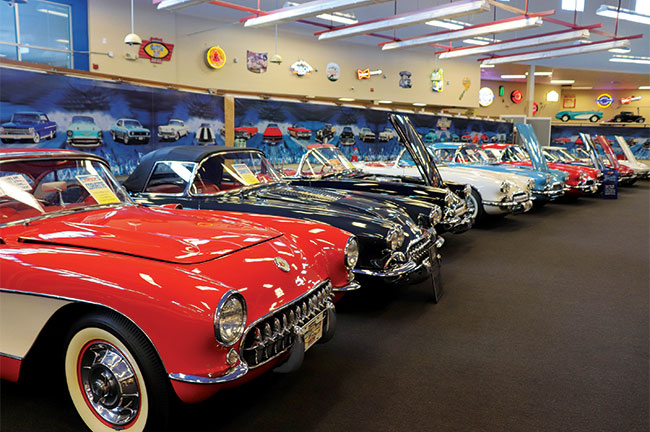 Muscle Car City, Punta Gorda | Credit: PureFlorida.com
Revs has some of the most rare and most important cars ever built and the Institute offers a variety of compelling special meeting places and the opportunity for docent-guided tours.
All special event requests (seated and plated dinners) are handled through Global Works Destination Management on a limited basis for up to 225 people.  
The Baker Museum (formerly the Naples Museum of Art) offers culturally significant events and exhibits as well as interesting meeting venues. The Baker Museum and other aspects of the campus are undergoing expansion and enhancements this year that will greatly enhance both indoor and open-air event spaces. Current options include a performance hall with extensive foyer art gallery space. 
The Naples Art Association's headquarters in downtown Naples is another great spot for events. Located one block south of historic 5th Avenue South, the building overlooks Cambier Park in downtown Naples. 
"We can seat 120 for formal dining in the Watson, 160 guests for theater seating and 250-plus for a reception," said Mary Visgilio, events coordinator for Naples Art Association.
"We have five studios upstairs which are great for small groups to do teambuilding activities with art," she added. "We have one group coming in from Miami to paint bowls as a teambuilding evening. We will have an instructor here to guide them—very fun! We like to think we take our guest events from ordinary to artistic." 
Marco Island
The Marco Island Historical Society features the 2,600-square-foot Rose History Auditorium that sets the stage for a wide range of events and gatherings. The outdoor grounds offer a garden setting with historically accurate murals on the outdoor walls of the neighboring Marco Island Historical Museum.  
Southwest Florida CVB Information
Beaches of Fort Myers & Sanibel
239.338.3500
Charlotte Harbor VCB
941.743.1900
Naples, Marco Island, Everglades CVB
239.252.2379
PageBreak
Zoom In: Q&A with Phil Lowd // Executive Chef // Cheeca Lodge & Spa // Islamorada, Fla.
What are meeting planners asking for these days?
We're receiving a lot of requests for unique, customizable culinary experiences where meeting attendees can have some sort of interaction with our F&B staff. This includes "action" stations with live cooking and carving and "build-your-own" stations for poke and ramen bowls, experiences that give attendees the freedom to customize their meals with creativity. 
Are you doing anything unusual for groups?
We really enjoy pushing the envelope and developing new and innovative ideas, taking traditional culinary ideas and putting a new spin on them. What are really popular for our groups are the homemade doughnut stations and homemade pasta stations. Guests can watch our team roll and cut homemade pasta and experience the authenticity and love we put into our food.
What do you do for coffee breaks that are innovative?
Coffee will always be important in the meetings world, whether it's for breakout sessions or after-dinner team bonding. We strive in keeping great blends at Cheeca and offering unique pairings with the coffees such as sugar sticks, homemade granola and protein bars, fresh pastries and doughnuts.
Are groups asking for more options like gluten-free, nut-free?
We haven't seen a major increase in the restrictions, I'd say no more than usual. We've always had dietary restrictions with groups but with the industry where it is, chefs everywhere are more aware and conscious about these specific needs, so naturally many of our dishes are easily customizable for these restrictions. 
What is the most unique thing you've done these days for a group?
We had a group visit Cheeca and requested a traditional crawfish boil. When I say traditional, I mean a very traditional Louisiana crawfish boil. We had the crawfish shells, the crackers, and all the food on a long table, customizing everything to make it as true to tradition as possible. I personally love preparing homegrown traditions like this. They bring the whole group together as one to share a meal and that's really what food is all about, sharing and gathering with others.
SOUTHWEST FLORIDA LATEST AND GREATEST
Islamorada
The 214-room luxury resort in Islamorada, Cheeca Lodge & Spa, recently unveiled a $25 million property-wide renovation post Hurricane Irma, including extensive updates to the meetings and events spaces. The hotel features 4,600 square feet of indoor meeting space and myriad outdoor venues for special events.
Sarasota
Art Ovation Hotel opened spring 2018. The newly built hotel is in the heart of downtown Sarasota with 162 guest rooms and a 6,000-square-foot ballroom and creative spaces both indoors and out. The hotel offers a cultural curator who arranges local artistic talent daily to delight hotel guests.
Marco Island
The JW Marriott Marco Island Beach Resort's $320 million renovation includes the November 2018 opening of the luxurious, adults-only Lanai Tower--the third tower at the expansive 810-room beach resort on Marco Island. In addition to the 94 new adults-only guest rooms, the new tower also features a chef-driven restaurant, rooftop lounge and a luxurious new pool deck.
Hilton Marco Island Resort & Spa  reopened its 310 completely renovated guest rooms in the fall. The Hilton's full property renovation includes a redesigned lobby, expansive pool deck space, The Deck at 560 Restaurant & Bar, and 12,000 square feet of meeting space.
Naples
The 100-condo Bellasera  resort, a Sunstream Resort in downtown Naples, recently earned a second palm designation from Florida Green Lodging. Their Zizi Naples Kitchen introduced new menu items and design. The resort offers 4,000 square feet of meeting and event space, including an executive boardroom, ballrooms, restaurant, lounge and an outdoor terrace overlooking the pool.
Also a Sunstream Resort, the 60-condo Park Shore Resort Naples, underwent renovations including new flat-screen televisions and new bedding.
The Ritz-Carlton, Naples reopened in September after an extensive summer restoration project including upgrades of the exterior facade, spa and meeting facilities.
Naples Grande Beach Resort renovated its 83,000 square feet of meeting and event spaces, which debuted in September. The 474-room resort is situated on 23 waterfront acres, adjoined by a pristine 200-acre nature preserve.
Cape Coral
The Westin Cape Coral Resort at Marina Village in Cape Coral opened its 30,000- square-foot conference center. The resort's $15 million Tarpon Point Ballroom with 12,250 square feet of space will accommodate 1,400 guests.
Fort Myers
Sunstream Resort GullWing Beach Resort, with 66 condo suites and 1,000 square feet of meeting space, recently completed guest room renovations.
The 60-suite Pointe Estero Beach Resort, also a Sunstream Resort, recently remodeled its guest rooms.
Another Sunstream Resort property, the 124-room DiamondHead Beach Resort & Spa, renovated its pool area.
A 354-room Margaritaville Resort is in the planning stages to be built near the Times Square area of Fort Myers Beach. Construction is expected to begin in December with an opening early 2021.
The Luminary Hotel & Co. plans to build a 237-room hotel along the waterfront of downtown Fort Myers in late 2019 or early 2020. The 12-story hotel will also include 8,000 square feet of function space and will be connected to the neighboring Harborside Event Center.