4 Planner-Friendly Updates to the Meetings Today Website
The Meetings Today website has a new, user-friendly design! It's now easier than ever to explore our industry insights, news and education on mobile and desktop browsers.
1. Responsive Design
If you're reading this on your desktop computer, great! We've made several enhancements that will make this article easier for you to read, as detailed lower within this article.
I encourage you pick up your phone and pull up the Meetings Today website there. We've ditched the old layout in favor of a scrolling design, where we can highlight some of the articles we are most proud of right up front, such as Lori Tenny's recent Puerto Rico coverage.
[Related Content: Puerto Rico's Comeback Story Thrives on Arts]
Keep scrolling and you'll see the Industry News you know and love, followed by Trending articles, recent destinations coverage, videos and podcasts, and more.
Click on a few articles, such as this risk management checklist and you'll notice a smoother browsing experience while viewing the mobile website.
2. Reorganized Homepage
You clicked and we observed. Industry News has always been a top-read section of our website. We bumped that over to the right-hand side of the homepage and separated more evergreen articles to the left under the Trending section.
If you want news, you can skim the news section.
If you want to explore the latest featured articles, industry insights and deep dives, those will also be better highlighted. And don't forget about all of our awesome destination coverage, which you'll notice is highlighted within the Destinations section of the homepage.
3. Easier to Read Articles
The font style, size and article widths have been adjusted to help ease the reading experience—we know your meeting planner eyes could use a break after skimming that pesky RFP or contract for the last few hours. Also, the images are larger and crisper than before.
Tyler Davidson's story highlighting meetings upgrades in Atlanta ahead of Super Bowl LIII on February 3 is one of many examples. Within this story he details how the destination prepared itself to host the largest sports event in the U.S. and what it means for planners.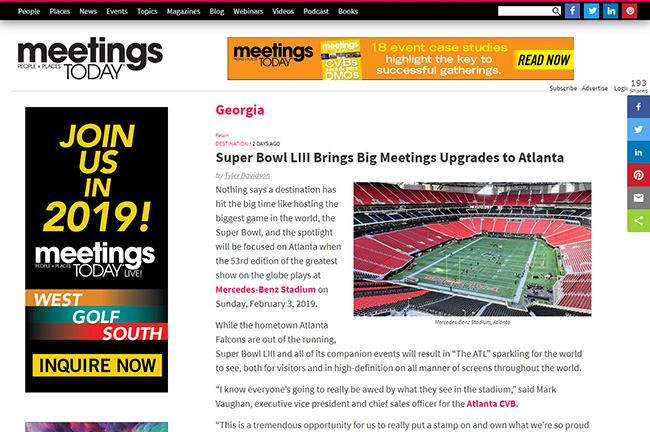 Meetings Today Super Bowl LIII Atlanta Article Screenshot
And don't miss the related Super Bowl-themed episode of the Meetings Today Podcast!
4. Better Performance and Load Times
Our crack team of developers enhanced the site to load faster and perform better. And we'll continue making updates behind the scenes to improve access to the content you need.
We're here to help you on your quest for meeting planning success.
Let's hear it for an efficient and productive 2019!
Comments? Questions? Drop me a line at eric.andersen@stamats.com.