NYSCSS Treasurer Tim Potts Details Albany Annual Convention
New York State Council for the Social Studies (NYSCSS) Treasurer Tim Potts, based in Monticello, New York, describes his experience holding the organization's annual convention in Albany.
Meetings Today (MT): What does your job entail?
Tim Potts (TP): The main function of NYSCSS, a professional organization that represents New York state social studies teachers, is to provide professional development.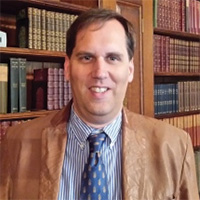 I am the current treasurer, sites chairperson and convention exhibits chairperson. Our staff is mainly volunteers that are full-time teachers or administrators. 
MT: What type of meeting did you hold in Albany?
TP: We have been holding our annual convention in March since 2016, and at the Albany Capital Center since 2017. The convention is our main revenue maker of the year.    
MT: Was anyone particularly helpful in executing your event?
TP: Discover Albany's Michele Endries, Debby Goedeke and Maeve McEneny are three individuals that annually help us with our convention. Michele Endries deserves special recognition for helping us to rebrand our organization and regain a solid financial footing.
MT: What did your attendees seem to enjoy the most about Albany?
TP: Many of our attendees mention that coming to the capital of New York helps in receiving school district approval to spend funds and attend the convention. Participants really enjoy the new state-of-the-art Albany Capital Center, and restaurants in the downtown area. 
MT: I understand your group did an evening event?
TP: In years past, we conducted a Prohibition-themed pub crawl culminating in a visit to Speakeasy 518, as well as a Prohibition-themed trivia event that was exclusively held at Speakeasy 518. Both events were well attended. 
MT: Are there any other group-friendly experiences you would recommend in Albany?
TP: Within walking distance of the downtown area are the Albany Institute of History & Art, Palace Theatre, various eateries and bars on Pearl Street, New York State Museum, New York State Capitol tour, events at The Egg and capital concourse shopping.
MT: How does Albany compare to other cities where you have hosted meetings?
TP: Historically, we move our convention around the state to meet our member needs, but Albany provides easy access to the New York State Education Department. 
MT: Would you recommend Albany to other meeting planners?
TP: Absolutely, yes, due to the many amenities that Albany has to offer, from a convention center and unique hotels to its important historic location as the capital of New York.
Plus, the various helpful staff members at the Albany Capital Center, Discover Albany and hotels are great to work with.
[Read This Next: Nightlife Experiences in Albany and Saratoga Springs]