San Diego's Food Scene Inspires Meeting Attendees
With a new wave of restaurants and properties featuring food-forward venues, San Diego is getting serious about its dining scene, which has changed drastically in recent years.
Locals and tourists still love the hometown favorites like fish tacos and California burritos, but a sudden wave of high-end restaurants and elevated food has everyone trying new things.
Still heavily influenced by Baja—the Mexico border is just 20 minutes south of downtown San Diego—cuisine that incorporates fresh seafood and local produce is now a popular trend.
"We see a lot of the Cali-Baja mix," said Margie Sitton, senior vice president of sales and services for San Diego Tourism Authority. "Chefs are taking the best seafood from Baja and pairing it with produce from one of the 100 farms we have here in San Diego County.
"And we're seeing that trend cross into meetings and events," she added. "Planners are now branding out for their attendees and willing to try new things that are unique to the location."
Culinary Highlights at San Diego Hotels
The 400-room InterContinental San Diego opened its doors downtown in late 2018.
The big splash at the hotel is Del Frisco's Double Eagle Steakhouse, the brand's first West Coast location. The 16,650-square-foot restaurant offers 480 seats, with almost half on two waterfront-facing terraces.
The Double Eagle Steakhouse's indoor seating also has water views and the space includes two bars and both private and semi-private dining rooms that can host 12 to 100 people, as well as temperature-controlled glass walls that showcase nearly 7,000 bottles of wine.
"Before, people did not think that San Diego had an appetite to support this kind of high-end restaurant, but it's obvious now, we do," Sitton said, referring to Del Frisco's Double Eagle Steakhouse as well as nearby Little Italy's Born & Raised, a 10,000-square-foot, 250-seat steakhouse that opened in late 2017.
Just under a two-hour drive south of the border is the hot wine region of the moment: Mexico's Valle De Guadalupe. Downtown's Kimpton Hotel Palomar San Diego helps groups experience this unique region with a Baja Wine Adventure package in partnership with local company Boca Roja. The package includes hotel accommodations, transportation between the Kimpton property and Valle de Guadalupe wine country, two Baja meals and two wine tastings.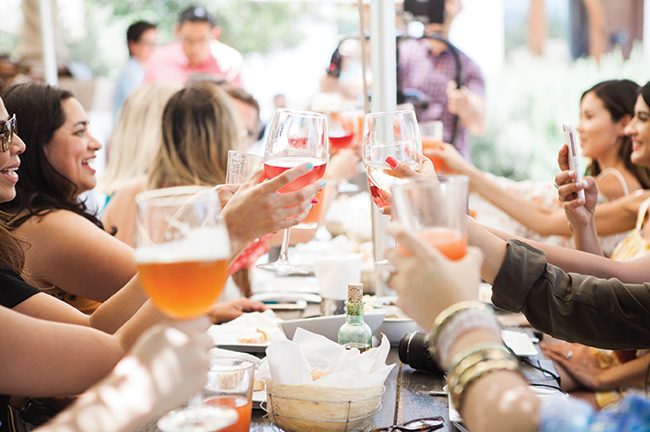 Hotel Palomar Baja Wine Experience
The iconic Hotel del Coronado, located just across the San Diego Bay from downtown, offers 65,000 square feet of indoor and outdoor function space across 47 venues.
The beachfront property, built in 1888 and the backdrop for 1958's Some Like It Hot, boasts seven dining outlets, including the legendary Crown Room.
Considered an architectural achievement when it was built, the Crown Room has hosted noted banquets and ceremonies for England's Price of Wales in 1920 and for Charles Lindbergh in 1927, among others. Today, groups can have customized themed events in the Crown Room.
[Related Content: 4 Healthy F&B Strategies to Infuse Into Meeting Agendas]
Another San Diego hotel icon is Town and Country San Diego, which is undergoing an $80 million facelift. The 675-key property in the Mission Valley neighborhood will feature 210,000 square feet of renovated meeting space when complete and will house three new restaurants and lounges. In the meantime, guests can enjoy coffee, cocktails and bites in the tiki bar Trixie, a 1964 Shasta Canned Ham Trailer.
According to Sitton, the temporary bar is located inside one of the property's pavilions.
Noshing Around in San Diego's North County
Just north of San Diego in the city of Carlsbad, Omni La Costa Resort & Spa is full of amenities that can keep guests entertained for days, including its Chopra Center, a retreat space with a variety of wellness options. The 600-room resort is also home to five on-site restaurants.
Executive Chef Jason Adams leads the food and beverage team and uses his experiences living and working in many locations and with different cultures to bring his own spin to the resort.
Chef Adams is fortunate to use products and ingredients foraged on-site, thanks largely to its Southern California location, with temperate weather year-round.
"Sustainability practices and organically grown cuisine are important to me, so I utilize ingredients that are either grown right here at the resort or from local farms," Adams said.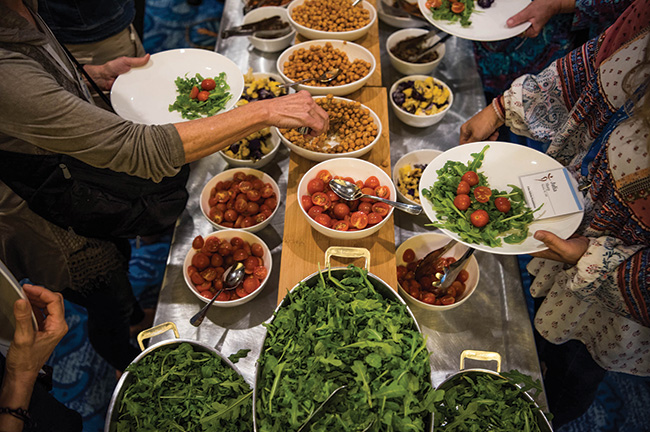 F&B Spread at Omni La Costa Resort & Spa
Adams noted he finds that groups want to taste a sense of place, so he is seeing more requests for local fish, meat and produce sourced from nearby farms, and that sustainability, organic ingredients and in-season produce are big desires for clients.
Legal Restaurants, a San Diego-based hospitality group, will open the Florence restaurant in early March 2019 in Kilroy Sabre Springs, a work campus that includes lounge areas, gardens and event lawns.
The restaurant will offer over two acres of outdoor event space and multiple private event areas, including the lawn and a three-level amphitheater designed for presentations, classroom style events, concerts, or cocktail receptions. The menu will offer farmers' market-driven menus, locally sourced organic produce and local seafood. 
Epicurean San Diego Leads Innovative Culinary Tours
Stephanie Parker launched Epicurean San Diego, which offers group tours, events, education and tastings, in 2015 and has been nonstop ever since.
"When we first started, we had one tour route and five partners," Parker said.
"To date, we have over 30 partners, five routes and have grown into a full-service, farm-to-table events and culinary tour company," she added.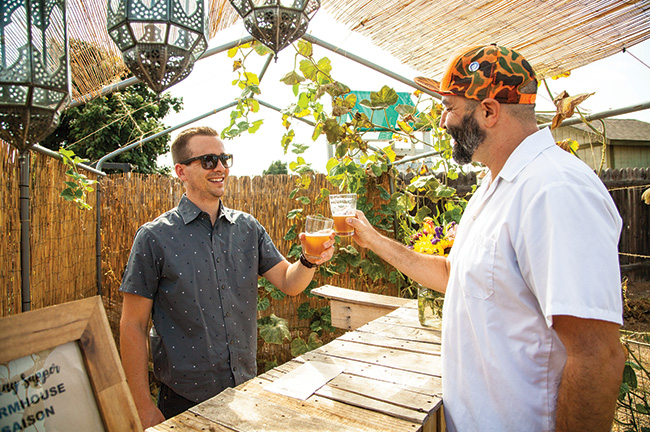 Epicurean San Diego Beverage Break
According to the requests she is seeing from customers, more than ever people are wanting to know how their food gets to their table.
"They're curious about the processes and they love hearing stories from our local makers," Parker said.
The company offers farm-to-table events that can take the term literally with what they call "farm hangouts." Groups can also have hands-on cooking classes and farm tours that can include harvesting ingredients for the chef.
They'll then sit for a multicourse, locally sourced meal prepared by a local, private chef.
[Related Content: Food & Beverage at Events (Needs Versus Wants)]
Parker shared that the newest group offering is farm-to-table yoga brunches.
"Guests enjoy a 75-minute vinyasa class at the farm followed by a farm tour and organic farm-to-table brunch," she said.
Stone Brewing: A San Diego Craft Beer Staple
It is no secret that craft beer is big in San Diego. Groups that want to incorporate the local scene into a program can include local brews.
Stone Brewing was one of the early craft brewers in town and has now grown to three breweries, including two in San Diego.
According to Haley Jones, communications specialist for Stone Brewing, Stone Brewing World Bistro & Gardens–Escondido, about 45 minutes north of downtown San Diego, offers four event space options, three of which are outdoors in or overlooking the one-acre garden.
"It's also where our main brewing facility is located, so we can easily include private tours of our brewery and packaging hall," Jones said.
The other San Diego location, Stone Brewing World Bistro & Gardens–Liberty Station, offers nine spaces, both indoors and outdoors.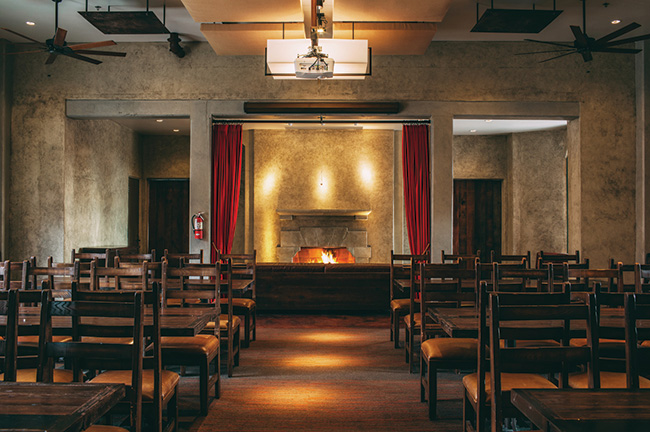 Stone Brewing World Bistro & Gardens-Liberty Station
"These spaces range from indoor banquet rooms to an outdoor bocce court, fire pits and a large lawn beneath a massive, picturesque pine tree," Jones explained. "Both locations can offer customized beer tastings, beer and food pairings, and educational presentations."
Partial and full restaurant buy-outs are also available at both locations.
San Diego CVB Contact Information
San Diego Tourism
619.232.3101