A Press Trip to the Unseemly Side of San Francisco
When an organization shows off its destination or convention properties by inviting travel trade media to experience the atmosphere first-hand the proceedings are always well manicured and flush with luxurious experiences.
So why on Earth would San Francisco and two of its Hilton hotels host a press trip to the most economically challenged neighborhood in the city, the Tenderloin?
Organized by the Hilton San Francisco Union Square Community Projects Manager Jo Licata, and Parc 55-A Hilton Hotel, the three-day immersion indeed found our group enjoying the amenities of both of these top-notch, popular convention hotels, but by venturing outside of their front doors we discovered the soul of a neighborhood and the unceasing dedication of the hotels and community leaders to improve the lives of its residents.
Highlights included an Outward Bound excursion to Golden Gate Park to explore its teambuilding opportunities, and tours and samplings from a few of the small restaurants that are contributing to what one can only describe as an emerging cuisine and entertainment scene rising like a Phoenix from the historically troubled neighborhood.
From truly authentic Somali cuisine at Z Zoul to the hip new jazz club Black Cat—reverberating with the musical stylings of some of San Francisco's rising young players and featuring a menu of curated cocktails that rival any I've tasted—to the family-owned restaurant Lapats, serving some of the finest Thai tastes I've encountered in San Francisco, or anywhere, the Tenderloin is ready for a look-see, especially by attendees who fit the "urban explorer" persona.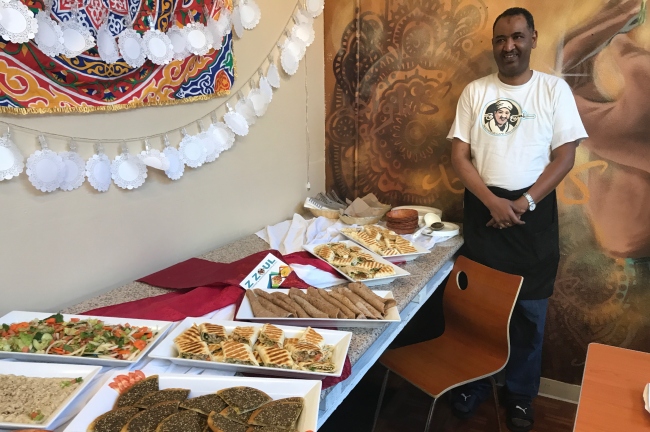 Z Zoul Restaurant
There's even a truly innovative blend of Japanese tea, sake house and spa called, appropriately enough, Onsen, with a husband-and-wife entrepreneurial team passionately rolling the dice on such a high-end concept in a low-rent part of town.
In such a compact city as San Francisco, urban scenes mix readily with heavily touristed areas, with major attractions such as the Asian Art Museum, SFMOMA and one of the most heralded jazz venues in the country, SF Jazz, all steps away.
The trip culminated in a mini-tradeshow of sorts in the Tenderloin Museum, featuring representatives of the leading organizations that are fighting for the community. In attendance was SF SafeHouse, which provides shelter for women fleeing the abusive street sex industry, to Project Homeless Connect, the Tenderloin Neighborhood Development Coalition, the CHEFS Program and many others who selflessly serve all who live and visit the Tenderloin.
As a 30-year resident of San Francisco I've walked the streets of "The Loin" on numerous occasions, and despite the sometimes heart-wrenching scenes of poverty and despair, it's never struck me as an ominously dangerous place to get from one place to another. Like in any large city, one must keep his or her wits together and always be aware of the surroundings.
But for those willing to take a leap into the unknown, a gem of compassion, upward mobility and entrepreneurial innovation await.
It beats simply taking a ride on the cable cars and going home.
[Related Content: San Francisco Combats Homelessness With Compassion]