What's New in 2019: Property Updates and New Attractions in Palm Beach County and the Treasure Coast
Although already incredibly popular destinations for meeting planners, the 39 cities and towns that make up South Florida's Palm Beach County are pumping up the volume with a variety of new and improved facilities and attractions.
Coupled with the activity-packed, rustic beach towns of Treasure Coast and the impressive Palm Beach County Convention Center, the area is a dreamland for meetings, events, conventions and tradeshows. It's home to more than 35 hotels in West Palm Beach, Boca Raton and the beach town of Jupiter, and 1 million square feet of meeting space destination-wide can accommodate virtually any size of group.
But it's only getting better, as new resorts, updated meeting spaces and countless attractions continue to define the landscape of Palm Beach County and the Treasure Coast in 2019.
[Related Content: Q&A With Eau Palm Beach Executive Sous Chef Matthew Gale]
"The Palm Beaches have dynamic developments that will impress and inspire meeting planners," said Jorge Pesquera, president and CEO for Discover The Palm Beaches, the tourism marketing organization for Palm Beach County. "We have 42 hotels in the pipeline—the single biggest surge in hotel development in our history."
And it doesn't stop there.
According to Pesquera, 12 hotels are currently under construction, some of which are in downtown West Palm Beach as a part of the Palm Beach County Convention District. And to the north in the Treasure Coast, new boutique venues and fun attractions continue to set it up as a must-go region for meetings and events.
If Palm Beach County and the Treasure Coast weren't on your radar before, it's time to plan a trip. And if you already know how great it is for meetings and events, it's time to go back.
Either way, these regions now promise meeting professionals even more choices for hosting meetings and events.
New Hotel Openings in Palm Beach County
The 158-room Mandarin Oriental, Boca Raton is set to open in downtown Boca Raton in 2020, and will be Mandarin Oriental's second property in Florida and sixth in North America.
All rooms and suites will be designed in a contemporary style with views of the Atlantic Ocean, golf course or downtown.
Outside of work hours, guests will have access to fine dining restaurants and bars, including Mandarin Oriental's signature MO Bar + Lounge located on the rooftop with an outdoor terrace.
Two rooftop pools and The Spa at Mandarin Oriental will offer holistic rejuvenation and relaxation, and a state-of-the art fitness center will make it easy for groups to stay fit while on-site for meetings and events.
Golf legend Jack Nicklaus has begun redesigning the adjacent 18-hole golf course, located at the Via Mizner Golf & City Club, which includes championship facilities. Banqueting and meeting space will include a 4,500-square-foot ballroom and a variety of conference rooms.
There, planners can use 200,000 square feet of meeting space at the Boca Raton Resort & Club's Mizner Center and an additional 500 rooms from multiple adjacent hotels to stage events.
In September 2018, the Forbes Five-Star oceanfront, 309-room Eau Palm Beach Resort & Spa in Manalapan, unveiled its newly redesigned ballrooms and meeting spaces, which encompass more than 30,000 square feet of indoor space on two levels in the resort's north tower.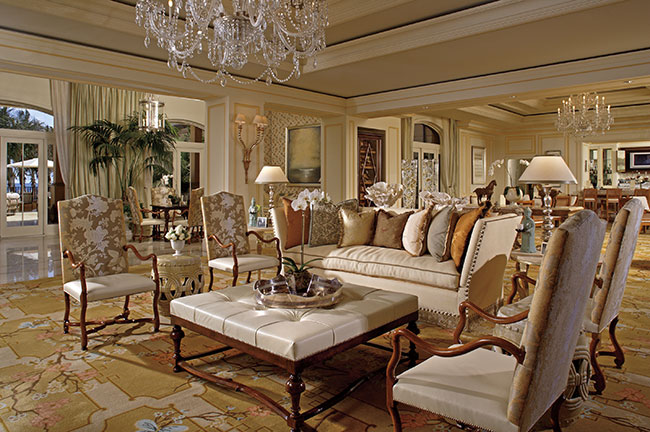 Eau Palm Beach Resort & Spa
The renovations showcase contemporary designs and include three refreshed ballrooms: The Grand Ballroom, Ocean Ballroom and Plaza Ballroom, which feature custom carpeting, modern wall sconces, sophisticated furnishings and a neutral color palette with accents of silvery blues and greens. Marble flooring in the corridor, new seating and a grand staircase add to the look.
[Related Content: Palm Beach and Treasure Coast Flow With Group Adventure]
More new additions include a state-of-the-art sound system, LED lighting and electronic reader boards outside each meeting room. The property can accommodate groups from 10 to 1,000 in a variety of indoor and outdoor spaces.
The Banyan Cay Resort & Golf in West Palm Beach is set to open in late 2019. Situated on 250 acres just outside of downtown West Palm Beach, the resort includes a 150-room hotel and 130-acre Jack Nicklaus signature golf course. Guests will have access to a full-service clubhouse, resort dining, a 5,000-square-foot signature spa and fitness center, a tennis pavilion, pool and more than 15,000 square feet of meeting facilities.
The Ben a Marriott Autograph Collection in West Palm Beach will open in February 2020. The 208-room property will stand out as the centerpiece of Flagler Banyan Square, a mixed-use complex that will include residential, dining and retail shops.
The Ben will also feature a full-service restaurant, rooftop ballroom and pool, and an amenity deck complete with views of the city marina, Intracoastal Waterway and Palm Beach Island. The site overlooks the Intracoastal Waterway and Palm Beach, with views of the Atlantic Ocean.
The Colony Hotel in Palm Beach reopened its Coral Ballroom in August 2018. The space was redesigned using the materials and colors of the sea. Its floor-to-ceiling windows provide views of a private terrace that can only be accessed from the ballroom.
Antique white coral chandeliers and matching sconces bathe the room in soft light while the ballroom's custom hand-painted and bleached wood floors display white-branched coral patterns. The ballroom can be divided into three smaller rooms.
Recent Renovations in Palm Beach County
In December, the Four Seasons Resort Palm Beach reopened after a multi-million-dollar renovation that featured redesigned guest rooms and a remodeled pool deck, including the addition of an adults-only second pool.
New culinary offerings include a signature restaurant, Florie's, in partnership with Mauro Colagreco, a world-renowned Michelin-starred chef, as well as a new beachfront restaurant.
The newly renovated Norton Museum of Art in West Palm Beach has been a cultural icon since 1941. It just unveiled a $100 million expansion and renovation in February that began in 2015.
The museum added 12,000 square feet of gallery space for exhibitions and an education center with two new classrooms and student gallery, the 210-seat state-of-the-art Stiller Family Foundation Auditorium.
The 165-seat The Restaurant at the Norton opened in February with both indoor and outdoor seating with views of the Pamela and Robert B. Goergen Garden.
New Properties, Updates and Attractions in Treasure Coast
The highly anticipated Star Suites By Riverside Theatre in Vero Beach held a ribbon cutting in early March 2019. The 60-suite facility was created to accommodate out-of-town actors, designers and artists who work or perform at Riverside Theatre, but rooms that are not needed by the theater will be available to the general public, including meeting groups.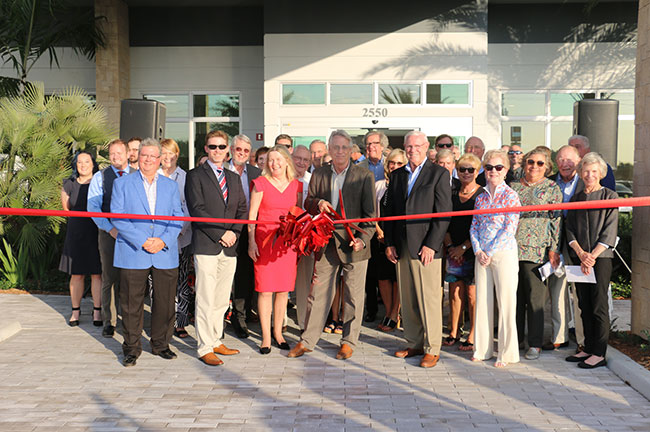 Star Suites by Riverside Theatre Ribbon Cutting Event, Palm Beach
Between Historic Dodgertown and the Vero Beach Regional Airport, the hotel offers a courtyard and clubhouse as well as a garden terrace for outside events.
Island View Cottages is located on the banks of the Indian River in the old fishing village of Sebastian. These 11 spacious one-bedroom, non-smoking, air-conditioned units are situated on two acres of wooded property.
All units have working kitchens and full access and views of the Indian River. The Island View Cottages are near the diverse dining and entertainment options available in Sebastian. In November 2018 the hotel was reintroduced after renovations to all of the cottages
BigShots Golf in Vero Beach is golf entertainment at its finest, especially for groups.
The two-story facility has 30 climate-controlled tee boxes with seating around the boxes on couches and high-top tables. Each tee box includes men's and women's golf clubs, two televisions and a gaming computer.
Guests can watch their favorite sporting events on TV while enjoying munchies and drinks.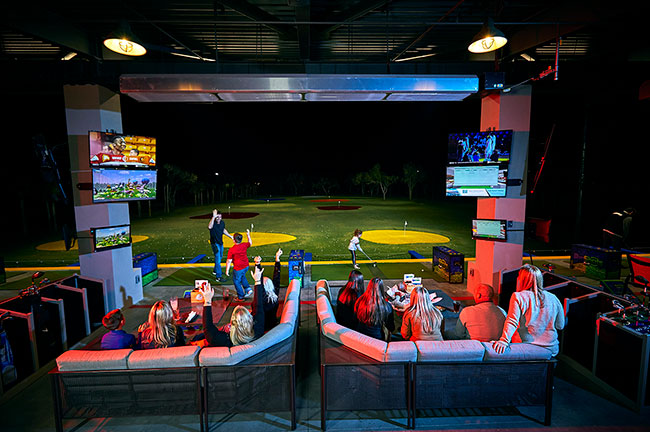 Big Shots Golf Bay at Night, Vero Beach
BigShots uses Doppler radar to accurately track each golf ball, giving the golfers valuable feedback and a unique gaming experience.
In March, another unique golf experience came to the Treasure Coast area. In Port St. Lucie, Pop Stroke offers players two 18-hole miniature golf greens where an app automatically tracks scores. A full-service restaurant and bar are available, and groups can have snacks served to them on the course.
The Regal Event Hall is a new venue for special events in Port St. Lucie. The modern industrial boutique venue offers over 3,000 square feet of space.
Palm Beach and Treasure Coast CVB Contact Information
Discover the Palm Beaches
561.233.3000
Indian River County COC
772.567.3491
Martin County Office of Tourism & Marketing
772.288.5451
Sebastian River Area COC
772.589.5969
St. Lucie County TDC
772.462.1535