Colorado's Impressive Art Scene Delivers Rich Experiences for Groups
From the iconic Denver Art Museum to designated districts in the Rockies, Colorado is filled with ways to see, experience and appreciate visual and performing arts. The Denver metro area has world-class art and culture venues, but smaller cities and regions throughout the state also have an impressive scene. 
Must-See Museums and Art Districts in Denver
One of the iconic buildings in Colorado's capital city is Denver Art Museum with more than 70,000 pieces across 12 permanent collections. Works of art include African; American Indian; Asian; European; American; architecture, design and graphics; modern; and contemporary pieces.
Founded in 1893 as the Denver Artists' Club, the museum has had multiple homes. Today, the 350,000-square-foot complex includes the seven-story North Building, the Frederic C. Hamilton Building—covered in 9,000 titanium panels—and the Bannock Administration Building.
The Denver Art Museum can be rented for small meetings of 50 people in the Congdon Board Room, and large receptions for up to 1,500 guests across multiple spaces. 
Galleries can also be rented for after-hour viewing and used alongside the El Pomar, outdoor Martin Plaza and Atrium on the second-floor, which is adjacent to special exhibition spaces. The 266-seat Sharp Auditorium and its lobby are ideal for lectures and meetings. Groups can also arrange for private docent-led tours during regular hours.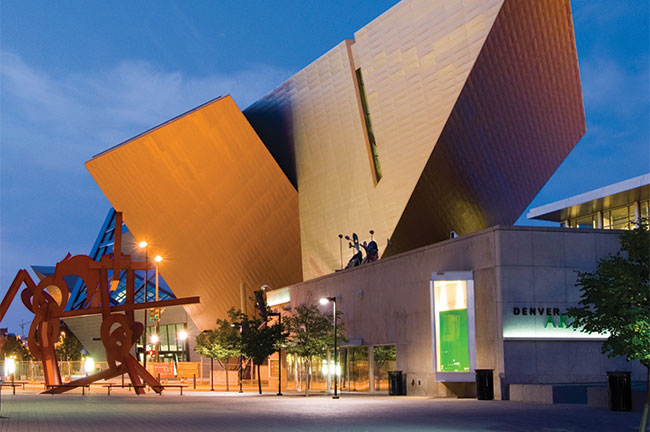 Denver Art Museum
Adjacent to the Denver Art Museum and in what is known as the Golden Triangle Creative District, is the Clyfford Still Museum. Opened in 2011, the 28,500-square-foot building was designed specifically to display 20th century Abstract Expressionist artist Clyfford Still's work. 
The museum is available for private rental and can accommodate 300 guests for a reception and 80 for a seated banquet. Groups can arrange private gallery tours for up to 30 people.
There are several art districts in metro Denver, including the Art District on Santa Fe, Arts on Belmar, Tennyson Street Cultural District and the River North Art District, or RiNo. 
Just north of downtown, RiNo's historic warehouses and factories house art galleries and studio spaces, bars, restaurants, and craft distillers, breweries and wineries. In the heart of this neighborhood, the EXDO Event Center offers four venues that can accommodate groups up to 2,500.
Boulder: One of America's Most Artistic Towns
Boulder was named one of "America's Most Artistic Towns" by Expedia in 2018. The city has a high concentration of artists, more than 30 art galleries, four museums and a dozen movie and stage theaters. 
The NoBo Art District is a community-focused organization dedicated to promoting artists and creative businesses of the north Boulder neighborhoods. This district features mixed-use restaurants and shops, and a variety of artist-friendly warehouses. 
Groups can tour the artists' studios and businesses on the first Friday of each month. The NoBo Art District organizes these guided tours and provides chances to meet painters, sculptors, photographers, designers and other artists of the district. There is live music, demonstrations and special activities at many businesses.   
The Boulder Museum of Contemporary Art, set in a historical warehouse building downtown, showcases contemporary art by regional, national and international artists across three galleries and a 100-set black-box theater. Groups of up to 160 can use the museum galleries, rooms and theatre for meetings and events.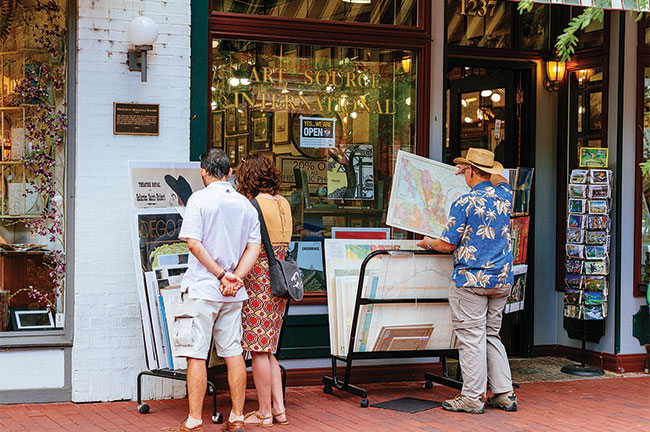 Art Source Posters, Boulder
Art Escapes in the Mountains
The Aspen Art Museum brings contemporary art to the Colorado Rocky Mountains. 
The 33,000-square-foot building is built with environmentally sustainable materials and practices, and the exterior is covered with a woven wood screen made of Prodema, a composite material that is dual-sided wood veneer and a substructure mixed of paper and resin. The interior of the museum features a grand staircase, moving glass room elevator, walkable skylights and the only public rooftop view of Aspen Mountain.
The Aspen Art Museum offers private group tours led by a museum educator. Groups that want to dive deeper into specific pieces or themes can arrange for the tours to include customized discussions. 
The Aspen Meadows Resort, a Dolce Hotel, is home to renowned Aspen Institute, an international nonprofit and nonpartisan think tank. This property was commissioned by the founder Walter Paepcke in the 1950s as a secluded destination where leaders could retreat to speak openly and reflect on important issues. 
The 40-acre property includes outdoor sculptures and a growing collection of works, including paintings, sculptures, photographs and tapestries, throughout each building. The on-site Resnick Art Gallery features works by Herbert Bayer while the Paepcke Art Gallery is filled with a rotating collection of works. There are also individual art installations spread throughout the campus, including the 22,000 square feet of event space and 98 guest suites.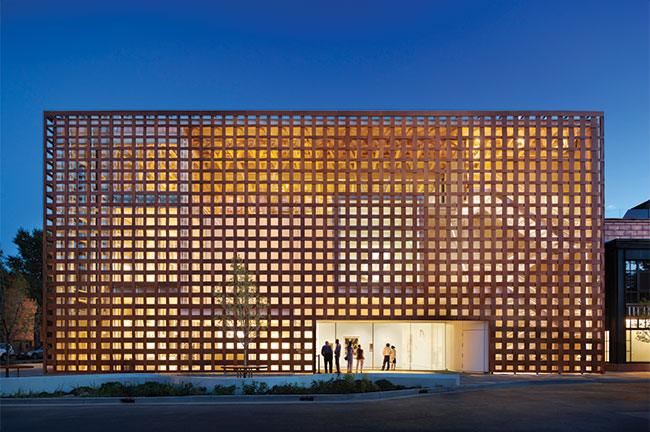 The Aspen Art Museum
The Breckenridge Arts District brings together galleries, performance spaces, studios, landmarks, public art and other businesses to infuse creativity into the region and specifically downtown Breckenridge. The core of the district is the arts campus that is home to artists-in-residence and hosts tours, exhibits and workshops. 
This district can be enjoyed on one's own before or after a meeting, but groups can also use one of the many available venues for private events. Options include the Riverwalk Center, a 750-seat indoor performance facility; the Breckenridge Theater, a 137-seat theater with an art gallery in the lobby; and Old Masonic Hall, a multipurpose arts facility.
Interactive Art and Workshops in Colorado Springs
The Cottonwood Center for the Arts is an arts organization that promotes creating and enjoying art in Colorado Springs. The gallery space can be used for private events for up to 100 attendees. The gallery features rotating work from local artists and the facility also includes a theater and classrooms. 
Groups can arrange for private classes, workshops and demonstrations at the center, including wheel throwing and handbuilding—a pottery-making technique—in the pottery studio. 
Close by is the Fremont Center for the Arts. The historic building, once a U.S. Post Office, houses rotating exhibits and a designated Permanent Collection Gallery. The multipurpose spaces on the lower level can be used for classrooms, exhibits, performances and workshops. The main gallery can accommodate 115 people with multiple seating configuration options.  
At Colorado Springs's most iconic resort, The Broadmoor, groups can watch enjoy films al fresco on a 26-foot outdoor movie screen with a custom sound system for the event so everyone can see and hear. This offering can be set up at many of the outdoor venues available—overall, the property has 185,000 square feet of meeting and event space, from the golf course to the resort's formal gardens.  
The Latest Hotel Developments in Colorado
Colorado Springs
On the heels of the renovation of Broadmoor Main building, including the main lobby, The Broadmoor  is reimagining its Mountain Clubhouse as a venue for meetings and events. It will open to groups beginning in July. The inside of the space has been redesigned to keep an intimate clubhouse feel and the outside has been dramatically expanded to take full advantage of the location's scenery. Outdoors, up to 300 people will be able to dine on the stone patio overlooking the the Rocky Mountains. Indoors, the dining space can accommodate up to 50 guests.
Denver
Hotel Teatro  completed a propertywide guest room renovation last year. All 110 guest rooms underwent updates and now feature custom-built hardwood furniture. The downtown Denver hotel offers over 5,500 square feet of meeting and event space.
In Denver's Cherry Creek neighborhood, The Jacquard Hotel, Autograph Collection opened fall 2018. The property includes 201 guest rooms featuring locally curated art and 6,900 square feet of flexible meeting space.
Hilton Garden Inn Union Station is set to open this spring. The 233-room hotel will feature a rooftop amenity deck, 5,000 square feet of meeting space and a hotel restaurant.
Fort Collins
Courtyard by Marriott Loveland/Fort Collins opened in February. The 102-room hotel features an indoor pool, a fitness center, guest laundry and two meeting rooms.
Colorado CVB Contact Information
Aspen Chamber Resort Association  
970.925.1940

Boulder CVB  
303.442.2911

Breckenridge Tourism Office 
877.864.0868

Colorado Springs CVB  
719.635.7506
Copper Mountain Resort
970.968.2318
Durango Area Tourism Office 
970.247.3500

Keystone Resort
970.496.4500

Snowmass Tourism
970.923.2000

Steamboat Springs Chamber Resort Association
970.879.0880

Telluride Tourism Board 
970.728.3041

Visit Denver 
303.892.1112

Visit Estes Park 
970.577.9900
Visit Fort Collins 
970.232.3840

Visit Grand Junction   
970.244.1480
Visit Vail Valley 
800.338.2315