8 Ways to Incorporate the Colorado Springs Art Scene Into Your Event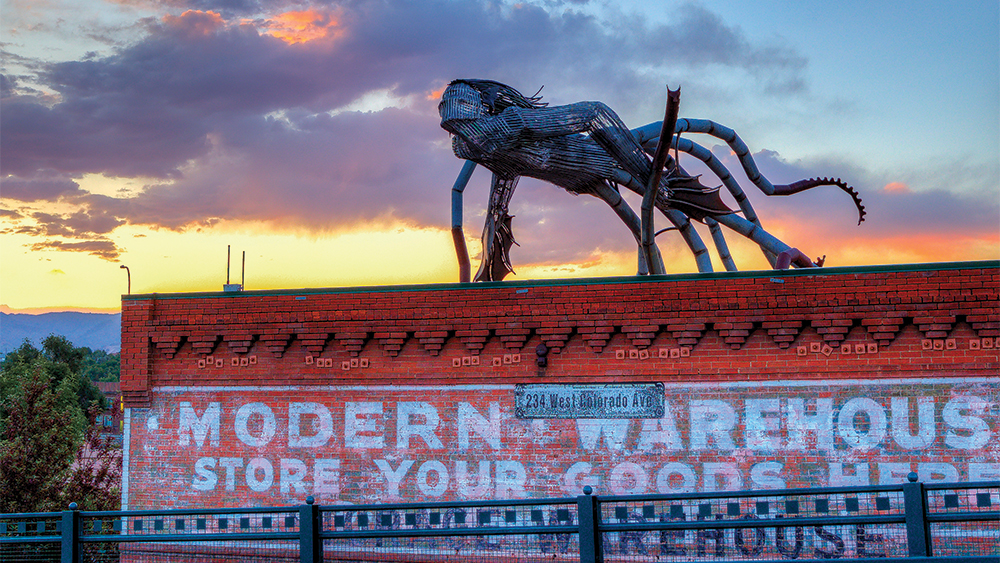 Nestled in the Rocky Mountains, Colorado Springs is visually stunning. Attendees meeting here already count on visits to natural wonders, including Pikes Peak and Garden of the Gods, but the manmade arts scene is just as impressive.
Incorporating the Colorado Springs arts scene into your next meeting agenda is easy. A few ideas:
Explore artworks on public display along the streets of downtown.
Host your event at local arts venues like the Colorado Springs Fine Arts Center.
Take an onsite arts and history tour of The Broadmoor.
Among these and more are our best recommendations for planners hosting arts-inspired meetings in Colorado Springs.
Ent Center for the Arts is a newcomer to the impressive portfolio of arts experiences in Colorado Springs.
Located on the University of Colorado Colorado Springs campus, this 92,000-square-foot performing and visual arts complex opened in early 2018. 
Its four venues include a 774-seat concert hall that stages music and various other performances year-round, and the Gallery of Contemporary Art, which showcases rotating exhibits.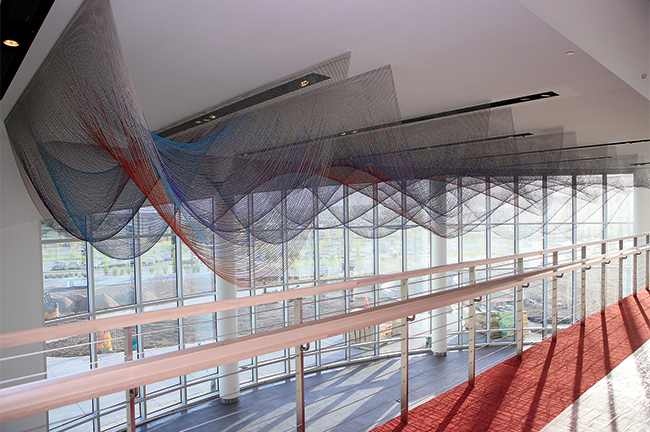 Ent Center for Performing Arts
The spaces are available for rent, according to Kathy Reak, senior director of convention sales for Visit Colorado Springs. "Groups will also appreciate the onsite outdoor sculptures and taking in a world-class music or dance performance." 
The permanent collection at the Colorado Springs Fine Arts Center at Colorado College features American, Native American and Hispanic art and is an excellent choice for planners looking for an artistic venue for an event, or for an after-meetings group activity. 
"The elegant 1936 building that combines Art Deco modern with Santa Fe Southwest style is located blocks from downtown Colorado Springs," Reak said. 
Deco Lounge, the Smith Gallery Glass Corridor and outdoor courtyard are available for onsite events. Reak also mentioned that private gallery tours can be arranged for groups. 
"This venue creates a unique artistic ambiance that is perfect for receptions, corporate meetings and more with flexible indoor and outdoor space to accommodate up to 400 people," Reak said. 
She added visiting groups can also browse the onsite gift shop, grab a bite at Taste restaurant or a drink in the Deco Lounge.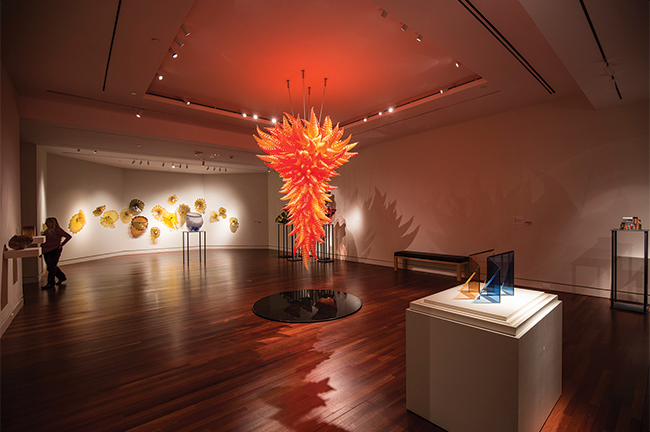 Colorado Springs Fine Arts Center
Groups interested in an affordable off-session excursion in Colorado Springs should consider taking advantage of the Art on the Streets program, which curates outdoor works of art for anyone to enjoy roaming downtown.  
"The program began in 1999 as a way to let locals and visitors alike enjoy world-class art without the price," Reak said. 
[Related Content: Colorado's Impressive Art Scene Delivers Rich Experiences for Groups]
 Artworks currently on display include Iscariot, a recycled steel sculpture.
"Groups could easily create a self-guided scavenger hunt of the numerous public sculptures or coordinate a private guided tour through the Downtown Partnership," Reak said.
Cottonwood Center for the Arts, located downtown, is a local favorite Colorado Springs arts venue.
Attendees can explore two floors of artwork—often rotating galleries featuring local artists—and utilize the gallery spaces, theater and classrooms for a meeting or meal function. Admission to the center is free. 
Additionally, private classes, from how to make pottery in the clay studio to techniques for watercolor painting, can be arranged. 
"A private group class is an amazing way to connect with colleagues," Reak said.
Arts-inspired meetings in Colorado Springs are easily executed at The Broadmoor, a standout setting for groups that offers onsite arts experiences.
Ideal for groups staying on the property, groups can take breaks from meetings to book a private tour that takes them through the resort's history and works of art, which includes a mix of original works and high-quality reproductions of works in the collection at Denver's American Museum of Western Art.
"The Broadmoor Art and History Tour is an immersive fun experience with skilled tour guides," Reak said. 
Groups can also partake in a hands-on customized Blessings! workshop at The Broadmoor. Owner and artist Teri Adams-Fjellman brings her art workshops to the resort, leading groups through various projects. 
The two most popular workshops are silk decorating and Western-inspired pendant-making, according to Reak.
Other workshops available to groups include making earrings, necklaces and bracelets, and mug decorating.  
If your group is in town on the first Friday of the month from April through October, attendees can attend the First Friday Downtown festivities enjoyed by locals.
The program operates in downtown Colorado Springs and beyond, and features gallery openings, live demonstrations, a chance to meet local artists and special performances, according to Reak. 
"First Friday art walks are an ideal way to discover downtown Colorado Springs, the historic galleries of Old Colorado City and Manitou Springs all in one loop aboard the free shuttle bus," she said. "The bus itself is an experience, often providing live entertainment and artist talks while attendees are transported from one location to the next."
 The shuttle bus is open to the public and private transportation options are also available throughout the area.
A performance at the Melodrama Dinner Theater at the historic Iron Springs Chateau in nearby Manitou Springs promises good eats and laughs for groups.
"The dinner theater provides vaudeville-style entertainment with originally scripted performances," Reak said. "Groups are encouraged to sing along and they can enjoy a family-style dinner before the show."
Group reservations are available for dinner and a show, and there are two private rooms and a theater to accommodate offsite events.
Located in Palmer Lake, Colo., about 20 miles from Colorado Springs, is Tri-Lakes Center for the Arts, a multifaceted space that features an art gallery with continual rotating exhibits, an artist's studio and an event venue that hosts performances as well as corporate gatherings.
Groups are encouraged to check out the calendar of events here, including concerts, dance performances and comedy shows.
"It is a true gem for Northern El Paso County in the quality of talent they get to perform there," Reak said.  
Planner's Perspective with Mark McSweeney, CAE of Association Societies Alliance
Briefly state what your job entails.  
I serve as the executive director for the Association Societies Alliance, whose membership represents the various state and regional societies of association executives across the country.
What type of meeting did you hold in Colorado Springs? 
We had our annual winter business and planning meeting in Colorado Springs.
Was anyone particularly helpful in executing your event? 
Kathy Reak, senior director of convention sales for Visit Colorado Springs, was extremely helpful in setting up options for offsite activities, making arrangements for a special dinner and helping with ideas and arranging transportation for a pre-meeting excursion. 
Dina Chiaravalloti, sales manager for Visit Colorado Springs, was an incredible onsite host and ambassador for the city. 
For our pre-meeting excursion, Mike Wojcik with Gray Line was our driver and was extremely accommodating and flexible. 
Brenda Lyons was our main contact at Cheyenne Mountain Colorado Springs, A Dolce Resort and worked hard to ensure our meeting experience went off without a hitch and exceeded our expectations.
What did your attendees seem to enjoy the most about Colorado Springs? 
The scenery, the resort, the ease of getting around, and the variety of things to do and see off site.
Are there any group-friendly experiences you recommend for groups meeting there? 
Groups should visit Garden of the Gods and Manitou Springs. And National Strength & Conditioning Association has impressive facilities and a great program called Physical Activity, Productivity and Creativity: The Connections Between Our Bodies and Minds.
How does Colorado Springs compare to other cities where you have hosted meetings? 
It was a great experience. Between the resort and the surrounding areas we had the perfect balance of being able to work hard and play hard.
Do you recommend Colorado Springs to other meeting planners?
It's my opinion that Colorado Springs is ideal for small to midsize groups, since that's what I work with. The cost to travel into Colorado Springs can be a challenge, but once there it is easy to create appropriate focus for attendees while giving them plenty to do to unwind and nurture the body and mind. I would certainly recommend Colorado Springs!
Openings & Renovations in Colorado Springs
SCP Hotel Colorado Springs, short for "Soul Community Planet," is open for business after a recent renovation. The property has 174 newly updated smoke-free guest rooms, 500 square feet of meeting space and a 12,000-square-foot fitness space.
Hilton Garden Inn Colorado Springs Downtown  is scheduled to open this August with an on-site restaurant and meeting space.
Colorado Springs CVB Information
Visit Colorado Springs
719.635.7506