Baton Rouge and Shreveport-Bossier Give Groups a Diverse Taste of the South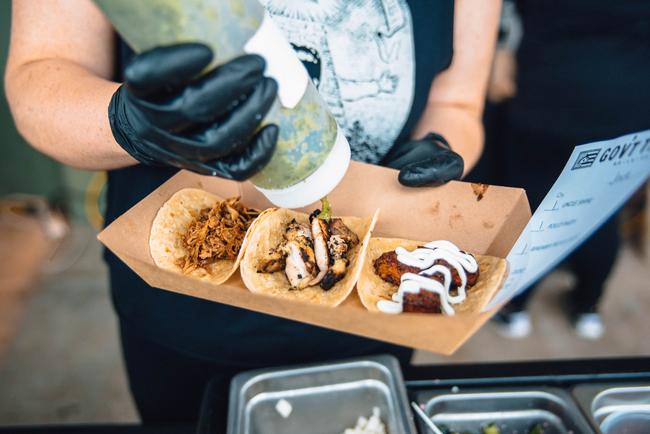 You can't meet in Louisiana without indulging in the Creole and Cajun cuisines for which the state is so well known.
Across the state of Louisiana, this traditional cuisine is celebrated, but new, inventive dishes are embraced, too—the food and drink scene in the state is more diverse than many might think.
Baton Rouge is especially known for its fare that combines the flavors and cultures of both Cajun and Creole, while the Shreveport-Bossier City metro area in the northern part of the state blends the traditions of South Louisiana with the slow-smoked barbecue of Texas and soulful country cooking.
Groups meeting in these cities can dine at restaurants, try their hand at cooking, learn the history of the state's fare from the experts, or just enjoy a beer from one of many local craft breweries. Here are our top recommendations for experiencing the deliciously distinct cuisine in Baton Rouge and Shreveport-Bossier.
A Mix of New and Old Give Baton Rouge Its Own Culinary Scene
"Downtown Baton Rouge is extremely walkable, offering meeting and hotel space in close proximity with numerous bars, restaurants and attractions," said Meredith Conger, communications specialist, Visit Baton Rouge. "Downtown offers a little something for everyone—from diverse ethnic cuisines to traditional South Louisiana fare."
One highlight of downtown's restaurant scene is Cecelia Creole Bistro. The bistro offers a twist on traditional Southern food and groups can use The Loft—a second-floor space with views of downtown—for private events.
On the rooftop of the Shaw Building, overlooking the Mississippi River and Old State Capitol, Tsunami Sushi is another good option for groups looking for private dining in downtown. The restaurant serves traditional sushi and has indoor and outdoor seating as well as the ability to hold private events with special catering menus. Tsunami Sushi can host sushi classes in-house or offsite for groups.
The Mid City area is also a hot dining spot—Conger said that it's seen exponential growth over the last several years. For example, it's home to Baton Rouge's only food hall, White Star Market, that hosts a variety of vendors offering everything from tacos to ramen and even healthy, vegan and vegetarian options.
The venue also hosts community events throughout the week and specials each night. Conventioneers and meeting attendees can visit White Star Market to get a taste of the city's latest food scene like a local.
[Related: Louisiana Is a Southern Standout for Off-Site Event Venues]
Another newcomer to Mid City, Red Stick Social, launched in early 2019. The venue is housed in the Electric Depot, which was once a power plant for the Baton Rouge Electric and Gas Company and now a mixed-use development of apartments, restaurants and retailers. This three-floor venue includes bowling lanes, game tables, a restaurant and bar. Groups can rent out lanes and the adjacent outdoor balcony for teambuilding.
The venue can also accommodate private events in several different settings, including the lounge, patio, beer garden, function rooms and the rooftop bar and terrace.
Unique offsites like Red Stick Social and White Star Markets aren't the only places groups can meet and sample Baton Rouge's best meals. Local hotels are also a reliable option.
"Our team here at Visit Baton Rouge works with meeting planners to ensure group events are completely personalized, and part of that is our close working relationship with our local hotel partners," Conger said. "We will work with hotels to create custom menus or events where applicable to showcase authentic Louisiana cuisine.
"For example, the Renaissance Baton Rouge Hotel has several items on their menu showcasing Louisiana flare, including boudin spring rolls, muffulettas, boiled seafood (including real crawfish boils) and more! They even offer a "La Caja China," which is a roasting box allowing groups to experience a real cochon de lait (the roasting of a whole hog)."

Photo: Crawfish Boil. Credit: Maggie Bowles
Additionally, The Hilton Baton Rouge Capitol Center is reopening The Tunnel, its private dining venue. The Tunnel, once an escape route used by Gov. Huey P. Long, will be a private event and dining space.
The space will include the 1928 Stage, perfect for singers, small bands and quartets. The Standing Room, a cocktail area, will be decorated with historic photos from the Long estate.
"It has long been our goal to bring The Tunnel back to life, and life back to The Tunnel," said Mark Van Amerongen, chief operating officer for Prism Hotels & Resorts. "The heritage of this hotel is tied to its extraordinary legacy. Since the property reopened in 2006, Hilton Baton Rouge Capitol Center has embraced its unique place in Louisiana history. Having The Tunnel open and operating brings an important part of that history to life. It will be a great asset to the hotel and a welcomed addition to the Baton Rouge community." 
Tasting and Teambuilding in Baton Rouge
Baton Rouge has several breweries and distilleries that give groups a flavor of the local scene as well as a unique offsite venue option or teambuilding activity.
Tin Roof Brewery
Tin Roof Brewery serves up its brews in its downtown taproom. The taproom, outdoor area, private room and brewery are all available to rent for meetings and events, and food trucks, catering vendors and event rental companies are all welcomed onsite. Groups can also arrange for a private tour.
According to Conger, Tin Roof also offers "Yoga on Tap" weekly. After a free yoga class, participants can sip on beers in the taproom.
Three Roll Estate 
Three Roll Estate is Louisiana's only single-source distillery. It's located in downtown Baton Rouge and produces rum, vodka and whiskey. The distillery is certified farm-to-table and sources all its sugar directly from its own sugar cane farm just on the other side of the river.
Tours and tastings are available onsite. The tasting room includes an outdoor patio space and interior bar, all of which is created from former sugar cane production equipment.
[Related: Baton Rouge and Shreveport-Bossier Engage Groups With Integrated Experiences]
Red Stick Spice Company 
"Red Stick Spice Company is locally owned and operated. Owner Anne Milneck sources all local producers, farmers and ingredients to create unique spice blends and to sell local jams, pepper jellies, sauces spices and products in her shop," Conger added. "They also offer cooking classes and demonstrations."
Available classes include Canning Class, which gives participants an overview of the basics of canning, tips and jars of jam or jelly to take home, and Plant Based Creole Cuisine, an exploration of Louisiana's Cajun Creole food history and the plant-based dishes that have always been part of the cuisine. Private cooking class themes can be customized to each group.
In addition to learning from Anne at the store's teaching classroom, she can also bring her expertise offsite to meetings and events.
Red Stick Spice Company also offers a day-long food and farm adventure that takes groups on tours of local farms and to food artisans in Baton Rouge. The day ends with a cooking class using ingredients picked up throughout the tour. 

Photo: Us Up North Dining
The Louisiana Culinary Institute is a two-year college offering degrees in Culinary Arts and Hospitality and Culinary Management, and offers classes hosted by professional cooks. The 40,000-square-foot facility includes classrooms, demonstration labs, baking labs, a restaurant dining room, amphitheater with kitchen and a media center. These spaces can all be rented for private use.
The Culinary Institute hosts cooking classes and demonstrations onsite. Groups meeting in Baton Rouge can learn about the region's culinary history with Cajun 101 or Cajun Favorites classes.
Groups can have a friendly competition in the kitchen with a customized teambuilding activity. Planners can work closely with the team onsite to select a venue within the facility and chose the menu and theme.
Shreveport and Bossier City Area Highlights its Own Type of Cuisine
"Shreveport-Bossier's food scene showcases the traditional flavors of North Louisiana, from slow-cooked barbecue to fried catfish," said David Bradley, vice president of sales and services for the Shreveport-Bossier Convention and Tourist Bureau. "Our local restaurant scene is always expanding with new additions that meeting delegates always enjoy."
This past summer the Shreveport Downtown Development Authority and several local downtown restaurants launched an initiative to provide discounts and special offers to conventioneers meeting in Shreveport-Bossier.
Conventioneers can redeem special offers by presenting a convention badge, name tags or host hotel room keys at participating restaurants.
"The new program can be utilized by meeting delegates at the Shreveport Convention Center, which is located within walking distance of participating downtown restaurants," Bradley said. "Partnering with the Downtown Development Authority and downtown restaurants to launch this value-added dining program is creating increased foot traffic into the participating local businesses."
East Bank District is the newest entertainment district in Shreveport-Bossier.
"The district is notably Louisiana's only open container district outside of Bourbon Street in New Orleans," said Aly Velasquez, marketing associate at the Shreveport-Bossier Convention and Tourist Bureau. "The district in Bossier City is located within walking distance of Horseshoe Casino and Hotel, Boomtown Casino and Hotel, DiamondJacks Casino and Hotel, Margaritaville Resort Casino and Louisiana Boardwalk Outlets."
Frozen Pirogue, which opened in October 2019, is the newest addition to East Bank District. The oyster and daiquiri bar features live music and serves up cocktails to-go.
According to Velasquez, other popular attractions in the district include Flying Heart Brewing and Pub, BeauxJax Crafthouse and Bayou Axe Co. East Bank Plaza, which set in the center of the district, hosts festivals, block parties at East Bank Market. It is also available for private event bookings.
Local Food and Drink Programs in Shreveport-Bossier
Local chef Hardette Harris opened the Us Up North dining experience for groups, which celebrates traditional North Louisiana cuisine.
A native of Minden (a city 30 miles east of Shreveport), chef Harris has led the effort to celebrate Shreveport-Bossier's unique cuisine by establishing the Official Meal of North Louisiana in 2015.
She has been named one of Louisiana Life's "2017 Louisianans of the Year" and one of Country Roads Magazine's "Best Small Town Chefs of 2017."
"The entire world knows Louisiana for our food. We're famous for our gumbo, crawfish and etouffee.  But when visitors get here, they don't understand that we eat different things all over the state," said chef Harris. "We hope to reintroduce locals and visitors to the food that we grow in North Louisiana—and for them to take pride in it."
The Official Meal of North Louisiana includes four courses of a wide variety of traditional soul food staples, including fried chicken, fried catfish, barbecue smoked sausage, collard greens, purple hull peas, plum jelly, pecan pie and hot water cornbread.
The Us Up North dining experience features a feast of these traditional dishes and a cooking demonstration by chef Harris. During the demonstration, guests will learn firsthand about cooking traditions that make food in North Louisiana unique.
Additionally, Shreveport-Bossier has its own beer scene brewing with several craft breweries.
Great Raft Brewing prides itself on being Shreveport's first local brewery since Prohibition. The brewery and tasting room serve up craft beers with Louisiana-inspired names like Reasonably Corrupt and Southern Drawl.
The brewery has been rated among the "South's Best Breweries" by Southern Living and named the "Best Brewery in Louisiana" by Thrillist and more. Tours and private event space are available for groups looking for a unique offsite setting.
Located on the southern edge of downtown Shreveport, Red River Brewing Co. serves a variety of craft beer, often pouring 10 or more different styles at any given time, according to Velasquez.
"Their enormous tasting room offers plenty of seating for large groups as well as a game room including ping pong tables, corn hole and more," she said. "The space is also home to Sanctuary Glass Studio, a glass blowing class experience."
Flying Heart Brewing is housed in a repurposed, historic fire station in Bossier City's East Bank District. The pub serves its craft beers and features a brick-oven pizza kitchen and craft cocktails. The space is available for private rentals.
Read This Next: How to Plan a Meeting Around One of New Orleans' Top Festivals
CVB Contacts
Shreveport-Bossier Convention and Tourist Bureau | 800.551.8682
Visit Baton Rouge | 225.383.1825