El Distrito San Juan Set to Transform Meetings in Puerto Rico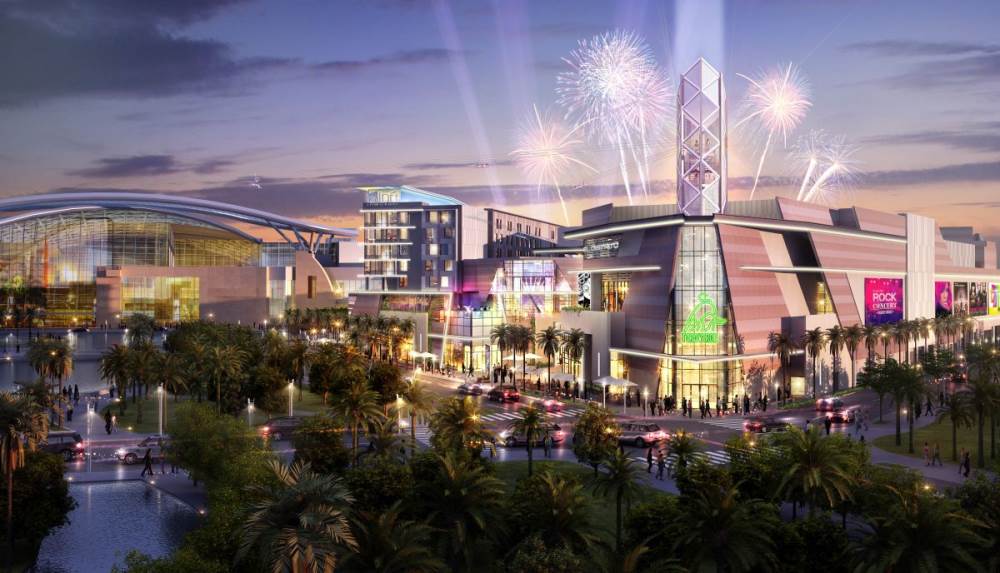 San Juan, Puerto Rico, celebrates 500 years in 2020. Its Old Town, which is on the National Register of Historic places, is the oldest urban core on the island and in the U.S.
Much of the old-world charm of Viejo San Juan remains: its cobblestone streets, 16th century castles and Spanish Colonial architecture make it feel like a living museum. But as it celebrates its quincentenary, San Juan is embracing the new, too.
Puerto Rico's capital city continues to rise like a phoenix from the ashes in the wake of 2017's Hurricane Maria devastation. As 2019 rolls to an end, the island is reporting some of its best numbers yet.
"The booking pace for leisure and groups into 2020 is more than 30% higher than a year ago, and the number of room nights in hotels and independent rentals in Q3 increased 17% over 2018, generating a high Q3 demand in room nights," said Brad Dean, CEO of Discover Puerto Rico. "At this pace, our sales team is targeting close to a 30% increase in MICE sales year over year."
With record numbers of meeting attendees and tourists flocking to Puerto Rico, new hotels are popping up everywhere. But 2020's most highly anticipated opening, perhaps, is not just a hotel, but an entire entertainment experience: El Distrito San Juan.
El Distrito San Juan: Puerto Rico's New Entertainment Destination
El Distrito San Juan is a five-acre hospitality and entertainment complex that will officially open in March 2020.
Even better—it's right next to the Puerto Rico Convention Center, which is the largest and most technically advanced convention center in the Caribbean.
"This will be pivotal for MICE and leisure travel," Dean said of the district, which is bound to be a popular setting for events and conventions in Puerto Rico.
Federico Stubbe, president of PRISA, the developer of El Distrito San Juan, said that the decision to build the entertainment complex was made in order to breathe new life into an underperforming convention center area.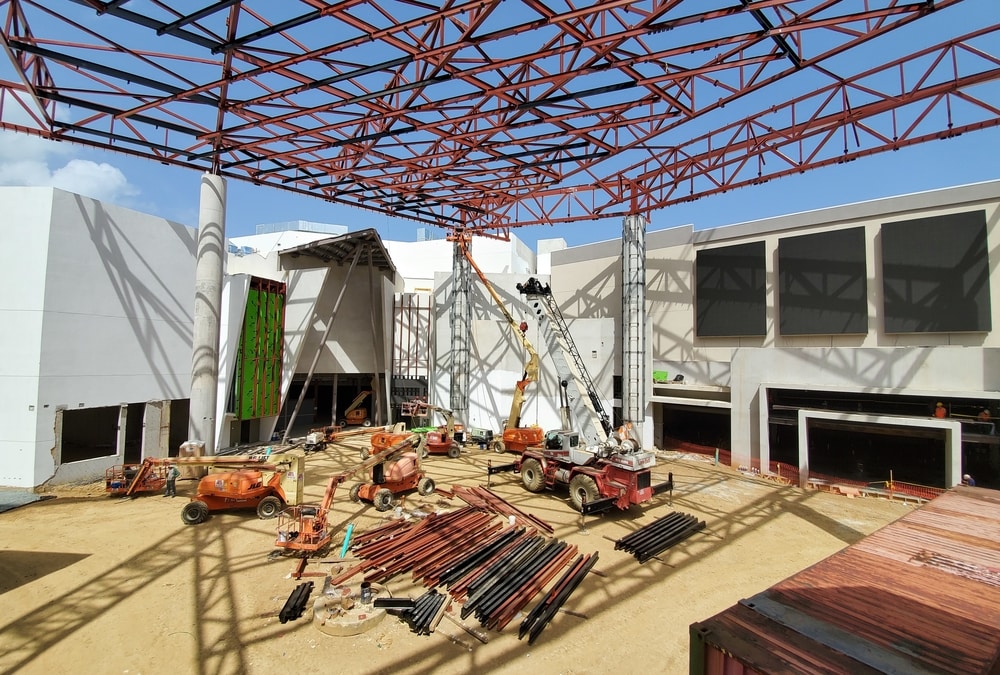 Photo: Construction progress on El Distrito San Juan Credit: El Distrito San Juan
"It was a very unexciting general area, and the average stay time in Puerto Rico was shorter—about 2.8 nights—than our closest competitors at four-plus," he said. "The truth is that visitors don't choose a destination because of a hotel room, they choose because of an experience. We decided we needed to focus on the San Juan experience."
Stubbe said his group took a hard look at how successful entertainment districts operate in the U.S. to guide their planning, but they wanted to ensure it remained an authentic Puerto Rican destination.
"We are not bringing any franchise brands from the U.S.—every concept that we are offering here is home-grown and done by locals, and it is meant to showcase who we are as a society," Stubbe explained.
Work began on the $170 million project in the weeks following Hurricane Maria and has marched on since—another testament to the resiliency of the island and its people.
Inside El Distrito: Central Plaza, Restaurants, Bars and More
Attendees at the Puerto Rico Convention Center will only have to walk across the street to dine at Puerto Rican bars and restaurants; see live performances; watch sports games; attend a daytime or nighttime disco; or even zipline, once El Distrito San Juan is open for business in early 2020.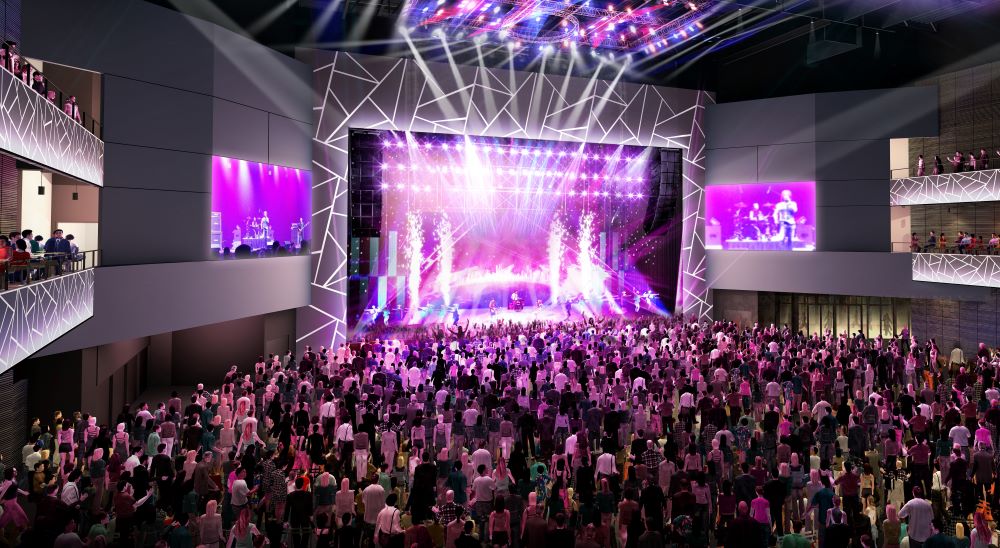 Photo: El Distrito San Juan Interior Rendering Credit: El Distrito San Juan
Stubbe added that its many flexible spaces within will also be taking special bookings for events, banquets and galas starting in 2020 and beyond.
"This is going to be a major, major game changer," he said, predicting that El Distrito San Juan will transform the meetings and events experience in San Juan. "We are trying to revolutionize how people have fun in Puerto Rico so visitors can taste and feel who we are as people."
Six highlights at El Distrito San Juan include:
1. The Plaza
Planned as the centerpiece of the project, the 50,000-square-foot plaza features a digital scenery system composed of over 14,000 square feet of LED screens, including the largest horizontal screen in the North America. The plaza will include a show room with space for more than 6,000 people, including a 900-guest VIP level section, and two outdoor bars, anchored by a center stage for public performances.
2. Aloft San Juan by Marriott
The anchor hotel to El Distrito San Juan is the Caribbean's first-ever Aloft Hotel by Marriott. The hotel, which is scheduled to open at the end of January 2020, is seven stories and features 177 loft-like guest rooms with views of the Puerto Rico Convention Center. It has 3,000-plus square feet of meeting space.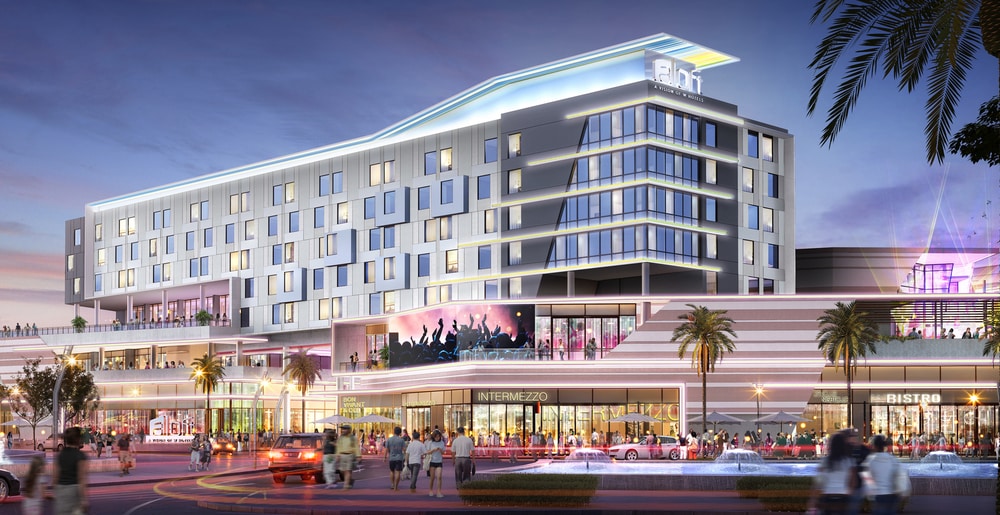 Photo: Aloft Hotel by Marriott rendering Credit: El Distrito San Juan
3. Interactive Rum Experience
An interactive rum experience by one of the preeminent rum producers on the island and one of the largest rum producers in the world.
4. Arena Medalla
A two-level gathering place for sports and beer lovers. In partnership with a local Puerto Rican brewery, it will offer brews and a 30-foot panoramic, multi-view LED screen for sports viewing.
5. Toro Verde
An urban zipline experience. Two lines will connect the convention center with El Distrito San Juan. It will also feature the first permanent augmented reality zipline experience in the world.
6. The KidZone
An entertainment destination for kids, ideal for family-friendly meetings.
El Distrito plans to announce all components, including more bar and restaurant concepts, in the first quarter of 2020.
[Related: Amid Political Disruption, Puerto Rico Remains Open for Business]
Meetings Growth and Economic Impact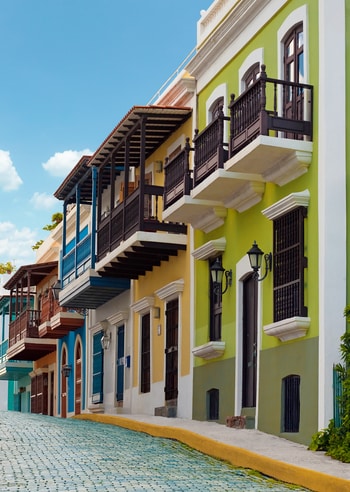 Stubbe predicts that the economic impact the district will have on Puerto Rico will be significant, and it will transform San Juan into a more compelling meetings and conventions destination.
"It's taken a lot more time and research to figure out, but it's really going to pay off in providing an authentic Puerto Rican experience," he said. "It will help the convention center to come out of its shell in a way. This is what's necessary and catalytic to position this convention center as a contained convention experience."
The development itself has already created 1,000 jobs, proving its positive impact on Puerto Rico's economy, too. Stubbe hopes that El Distrito San Juan is only the beginning of a new, prosperous Puerto Rico. (Photo: Old San Juan street
Credit: Discover Puerto Rico)
"It's an anchor to a much broader, larger vision for the whole area." Stubbe said.
Discover Puerto Rico's Dean agrees.
"To see the continued success of Puerto Rico is incredibly rewarding, because tourism impacts the remarkable local community in many ways and helps the economy prosper," Dean said during an update on the island's progress at an IMEX America press conference. "We have received great growth data from our public and private sector partners, together with the addition of new and exciting offerings that are sure to impress both leisure and business travelers; this great pace is far from stalling."
Read next: 5 Nature Escapes in Puerto Rico