These 4 Chicago Suburbs Offer Convenience and Personalization for Meetings
Chicago without its downtown amenities? Although it might raise eyebrows, hosting a meeting in the suburbs of the Windy City from North Shore to Southland, rather than downtown, can be a convenient destination—and one that still offers interesting venues.
One of the main reasons planners are choosing the suburbs over downtown, said Chicago's North Shore CVB executive director Gina Speckman, is personalization. "A small to mid-size meeting receives customized and personal attention and meeting benefits not afforded to them when working with a large CVB that is focusing on convention center meetings," she said.
Accessibility and free parking are also big draws for planners. "We are located between both [Midway and O'Hare] and all major highways," said Nathan Karsten, director of sales and marketing for Hilton Chicago/Oak Brook Hills Resort & Conference Center, located around 20 miles west of downtown Chicago. "It is easy to get to us and we do not charge for parking."
When planning an event in the Chicago area, consider some of these advantages provided by the Chicago suburbs and its venues.
Chicago Southland
Located about 25 miles south of downtown, Chicago Southland is within a five-hour drive of eight different states, said Katie Arvia, communications manager for the Chicago Southland CVB. "We're easily accessible," she said.
[Related: Off-Site Experiences Midwest]
Hotel guests in the area also receive free parking. Recently completed renovations at Georgios Banquets, Quality Inn & Suites Conference Centre include 150 renovated guest rooms. The venue boasts more than 25,000 square feet of conference, meeting and banquet space. This includes 13 multi-function rooms and a 15,000-square-foot ballroom.
The DoubleTree by Hilton Hotel Chicago - Alsip recently completed a three-year renovation of the entire venue, including the lobby and guest rooms. It encompasses more than 15,000 square feet of meeting space, including 13 meeting rooms and three ballrooms. The grand ballroom can accommodate up to 450 guests. Onsite audio/visual staff are also available to planners.
If you're looking to get out and explore Chicago Southland, Arvia recommends Iron Oaks Environmental Learning Center in Olympia Fields. A 38-acre nature preserve, Iron Oaks is ideal for incorporating teambuilding activities into your event. The venue offers high ropes, a climbing wall, hiking trails, environmental education and more—as well as a 1,300-square-foot conference room.
For even more entertainment, planners can look to Accelerate Indoor Speedway & Events in Mokena. Activities include go-kart racing, axe-throwing and an arcade. There are also 16 breweries in the area, a sculpture park and 35 golf courses. "There's a lot to do in the Chicago Southland," Arvia said.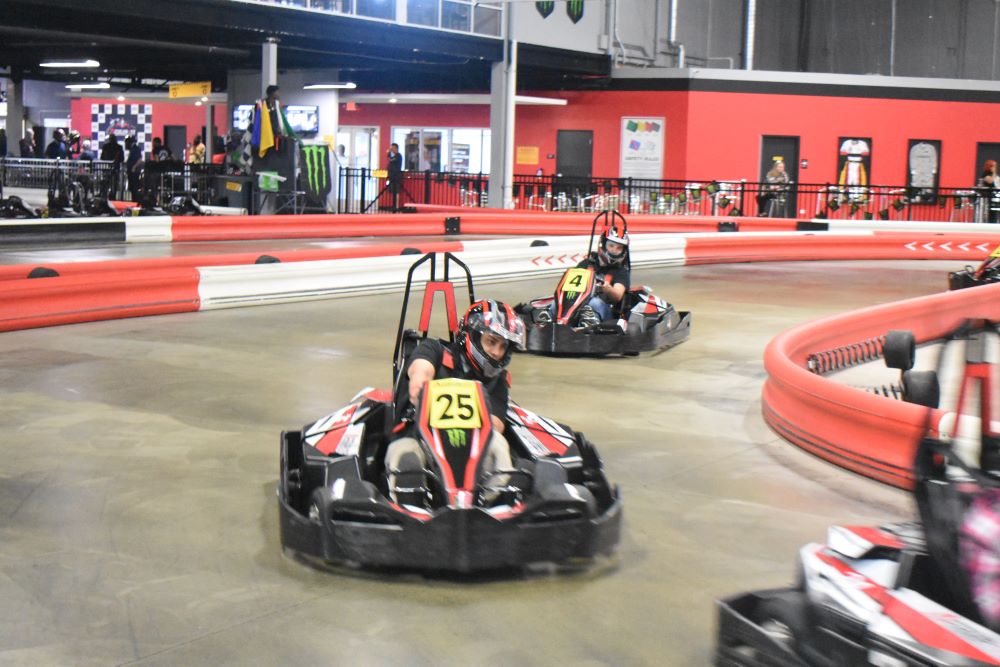 Photo: Accelerate Indoor Speedway & Events, Moneka; Credit: Chicago Southland CVB
Chicago North Shore
Chicago North Shore is about 20-30 minutes from O'Hare Airport and is accessible "without getting on a congested highway," Speckman added. "And there's easy access from multiple expressways."
Planners can take advantage of two Hilton properties: Hilton Chicago Northbrook and Hilton Garden Inn Chicago North Shore/Evanston. The former recently completed phase one of a multimillion-dollar renovation, which included a refresh of 249 guest rooms. Its meeting and event spaces are also outfitted with new electronic reader boards and door signs, as well as new carpeting, wallpaper and light fixtures. The property offers a 9,570-square-foot ballroom and 18 breakout spaces.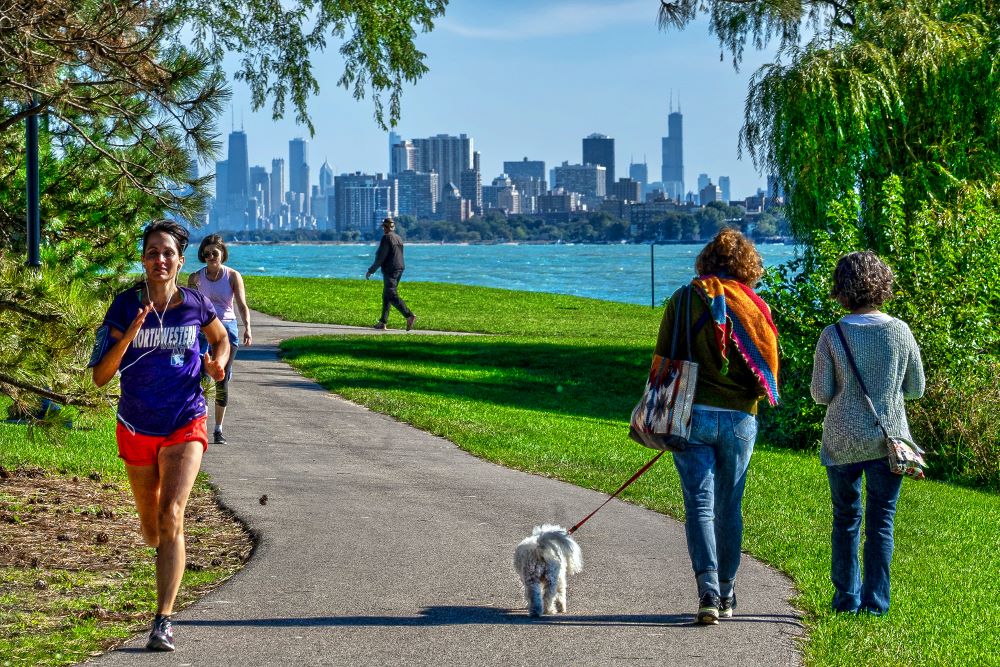 Photo: Evanston Lakefront jogging path; Credit: Chicago's North Shore CVB
Located in the heart of downtown Evanston, the Hilton Garden Inn Chicago North Shore/Evanston recently completed a yearlong renovation and offers more than 5,000 square feet of meeting and event space for up to 200 people, as well as 178 guest rooms.
[Related: Illinois Inspires Groups with Teambuilding Adventures]
Flexible, unconventional offsite venues that Speckman recommends are the Chicago Botanical Garden—"[it has] many options and can accommodate 10 people or thousands, indoors or outdoors"—and Ravinia, an outdoor concert venue "with great options for groups." Or head for higher ground with two restaurant rooftop spaces, Five & Dime in Evanston and The Hampton Social in Skokie.
For teambuilding, planners can look to Pinstripes, which offers bowling and bocce; and walking architecture tours of Evanston, including a stop to see the Charles Gates Dawes House, an 1894 mansion on Lake Michigan. Hitting a Chicago Cubs game, during the right time of year, is also an option.
"We are connected by the City of Chicago 'el' train, and our hotels in Evanston are closer to Wrigley Field where the Chicago Cubs play than the downtown Chicago hotels," Speckman said.
[Related: Historic Ballparks Made For Hosting Events]
Chicago West
Karsten, of Hilton Chicago/Oak Brook Hills Resort, said the venue's flexibility and accessibility are attractive to meeting planners. "The flow of our meeting space is ideal, offering space near each other—normally on the same floor," he explained. "Our location is also key, offering easy accessibility."
He added that the venue's overall costs is a large reason why it might win an event over downtown Chicago. "Our price points for guest rooms and food and beverage items are typically a minimum of 25% lower," he said.
The venue offers 42,500 square feet of event space—including a newly renovated IACC-certified conference center—and more than 20,000 square feet of outdoor event space. Indoor event space also includes 36 meeting rooms and an amphitheater that can accommodate up to 145 people.
On site, attendees can take advantage of the venue's 18-hole golf course, Willow Crest Golf Club. (It's the only Hilton golf resort in the Midwest.) Hilton Chicago/Oak Brook Hills Resort also offers culinary team challenges, such as the Salsa Challenge, where teams must create a salsa recipe and a marketing plan for it.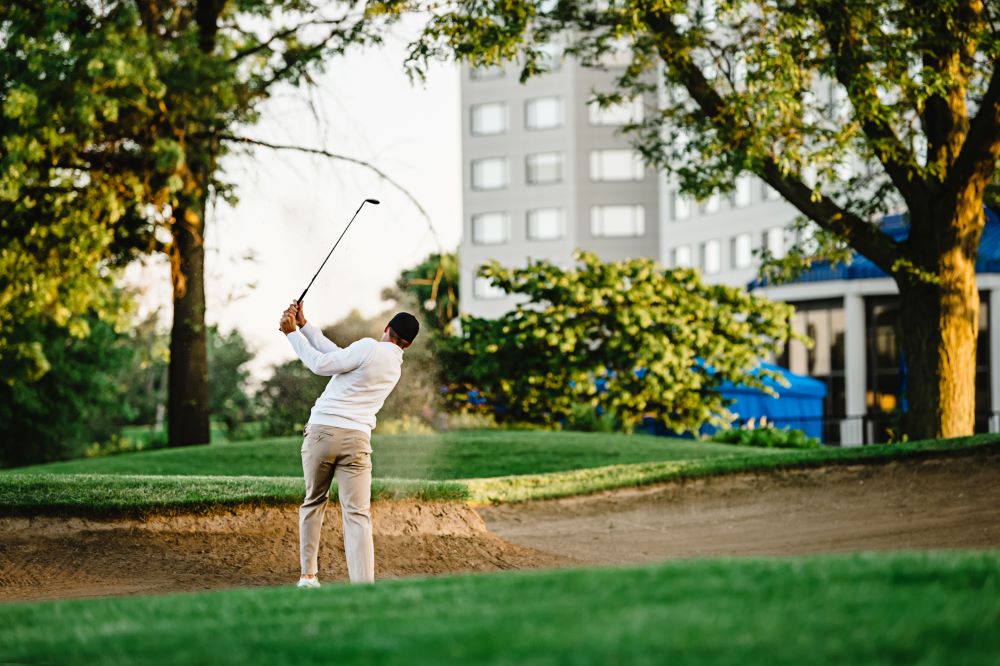 Photo: Golfing at Willow Crest Golf Club, Hilton Chicago/Oak Brook Hills Resort & Conference Center; Credit: Courtesy of Hilton Chicago/Oak Brook Hills Resort & Conferene Center
Off site, the western suburbs offer everything from wine tastings to an outing at the Brookfield Zoo. "Our partnerships in the area will also help with fun pub crawls or dine arounds," Karsten added.
Chicago Northwest
The Northwest suburbs also have a host of venue options for planners: home to 60 hotels and 50 alternative venues, the area can cater to all-sized groups.
The Schaumburg Convention Center is a highlight, providing over 100,000 square feet of space and close access to 1,300 hotel rooms, including 474 at the connected Renaissance Schaumburg. Schaumburg itself is only minutes from O'Hare airport and free parking abounds.
Convenience is Key
In the Chicago suburbs, whether you decide to head north, south or west of downtown, meeting amenities abound. Convenience is key, from easy accessibility via flying or driving to free parking. And basing a meeting or event in the suburbs doesn't mean downtown is out of the question—the allure of the Windy City, even for a night, is still within reach.
Connect
Chicago's North Shore CVB | 847.763.0011
Chicago Southland CVB | 708.895.8200
Meet Chicago Northwest | 800.847.4849
Read Next: Chicago Vibrant Arts Scene