Dunwoody Familiarization Tour Showcases Destination's Safe, Updated Meeting & Event Options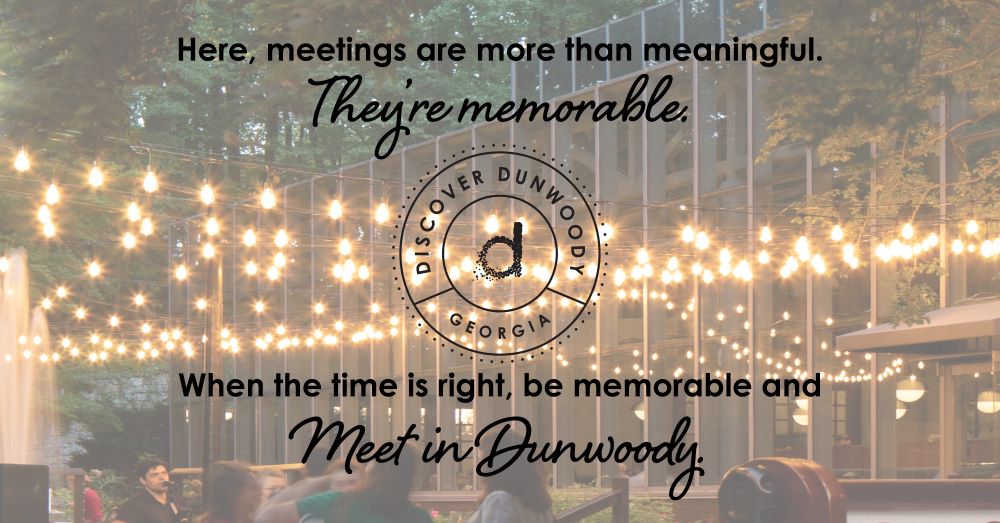 As 2020 came to a close, Discover Dunwoody hosted meeting and event planners from Maritz Global Events for "WeConnect Again," a safe, socially distanced event that offered a look at changes being made in the popular destination just above Atlanta. With the goal of educating planners about the new experiences available in Dunwoody, as well as providing a personal look at meeting set-ups, food and beverage options and COVID risk management plans, the event encouraged and reassured attendees about the potential that exists in the future for their clients.
"Our dedicated hotel partners have worked tirelessly to ensure that guests feel safe attending a meeting or event in Dunwoody, and I'm so glad we had the opportunity to educate planners about the enhanced health and safety protocols we've implemented, as well as all the ways our destination can accommodate their clients," said Steven Schumacher Discover Dunwoody's director of sales. "We look forward to welcoming groups safely back to Dunwoody to experience all we have to offer, from our convenient location and newly renovated hotels to our delicious dining and fun activities." 
During the gathering, which took place December 1-3, guests had the opportunity to experience the destination's meeting and event spaces along with safe activities and dining venues first-hand. They also participated in informational discussions centered around the future of meetings, how an in-person meeting can happen safely and how to keep attendees' spirits alive during this unprecedented time.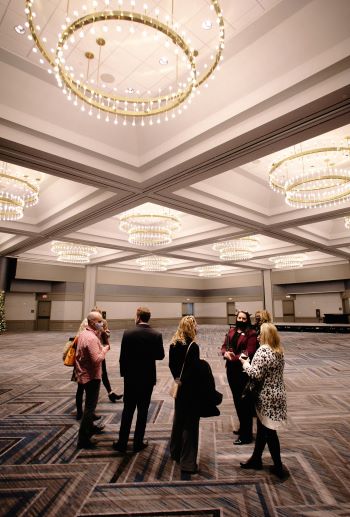 A prime destination for all types of meetings, Dunwoody features eight centrally located and modern hotels with a combined 66,000+ sq. ft. of function space. FAM attendees stayed at the Hyatt Place Perimeter Center, which opened in September 2020 and features 178 guestrooms, flexible function space for up to 230 people and a contemporary, comfortable environment.
Guests also had the chance to visit the Crowne Plaza Atlanta Perimeter at Ravinia for a welcome reception and tour of its 12,000 sq. ft. ballroom (pictured left), one of its 495 spacious guestrooms and the Parkwoods restaurant which doubles as a work and play space. At Le Meridien Atlanta Perimeter, guests enjoyed lunch at Portico Global Cuisine, one of the many meeting spaces available at the property, in addition to touring 12 bright event rooms offering ample natural light and views to inspire and ignite creativity.
Each of Dunwoody's eight hotels has also implemented health and safety precautions to ensure their guests are comfortable throughout their trip and that meetings can continue without interruption.
"Discover Dunwoody and its partners planned a well-thought-out and perfectly executed experience for our group," said Elizabeth Pardillo, CMP, meeting and event strategist with Maritz Global Events. "In the planning process, I communicated the importance of our colleagues meeting again safely in person, to see how a destination could execute a safe meeting properly, and to discuss how we could consult with our clients on redesigning their future meetings. We all were completely impressed—by not only the hospitality of all of the hotels and venue teams—but on how safe and comfortable we all felt in Dunwoody."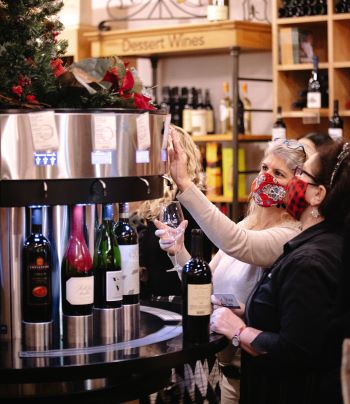 As drive-to meetings are expected to dominate the group market in the first half of 2021, Dunwoody's proximity to major cities like Nashville, Charlotte, Greenville, and Jacksonville makes it a great destination for groups of all sizes. Once in town, guests will be in the center of a wide range of dining options perfect for a team lunch or a post-work happy hour including Vino Venue (pictured right), Novo Cucina and McKendrick's Steak House. The destination also offers many outdoor activities that provide team-building experiences including the Dunwoody Nature Center and Brook Run Park. 
Meeting and event planners who would like to learn more about Dunwoody's updated meeting and event spaces, dining and activities can view Discover Dunwoody's Virtual Fam Tour or visit MeetinDunwoody.com. 
For more information, visit DiscoverDunwoody.com. Stay up-to-date on the latest Discover Dunwoody news by following @DiscoverDunwoody on Instagram or DiscoverDunwoody on Facebook.
About Dunwoody, Ga.:
Dunwoody, Ga. is a premier hub for shopping, dining, business, and culture located just north of Atlanta. From boutique to crowd favorites, wine bars to patio dining, a fine art school to a theatre company and abundant green space to hiking trails, Dunwoody has something for everyone.
With easy access to mass transit and major highways, this city offers proximity to key Georgia tourist attractions, sporting events, and festivals. A little bit metropolitan chic, a little bit small-town escape, Dunwoody is above Atlanta and beyond the expected.
Sponsored Content is submitted by our advertisers and does not represent the views of Meetings Today or its publisher, Stamats Communications. Content may be edited for clarity and style.