Vegas Casino Workers Stand Up Against Harassment
The Culinary Workers Union Local 226 released the results of a study conducted by UNITE HERE's Culinary and Bartender Unions of over 10,000 Las Vegas casino workers that reported 59% of cocktail servers and 27% of hotel housekeepers said they had been sexually harassed while on the job.
Based on the study's complete findings, the Culinary Union decided to take action and is now asking Las Vegas tourists to pledge to not sexually harass casino workers while they are visiting. A press release also stated that UNITE HERE locals will be leafleting the pledge at major airports across the country.
The pledge is available on the Culinary Union's Vegas Travel Alert website.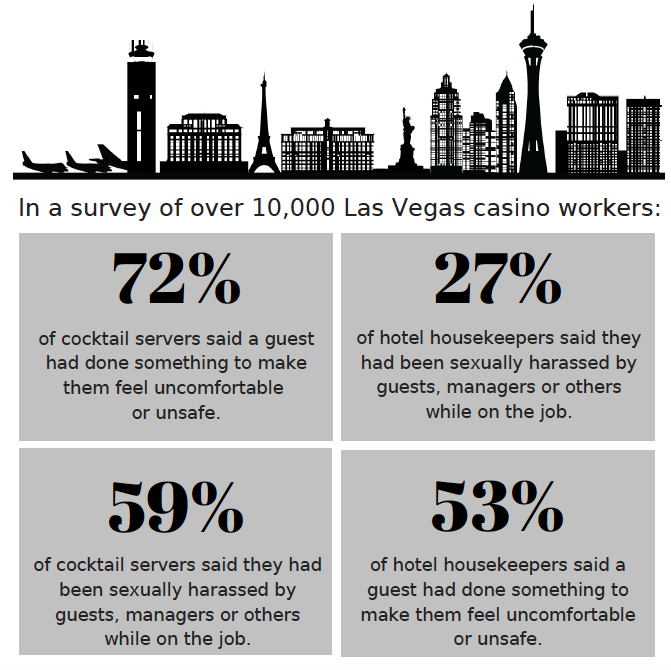 The results of the survey and worker concerns led the Culinary and Bartenders Unions to propose stronger safety protections in current contract negotiations for 50,000 workers in 34 casino resorts on the Las Vegas Strip and in Downtown Las Vegas. The contracts expire at midnight on May 31, 2018.
On May 22, 2018, 25,000 union members voted by a 99% margin to authorize the union negotiation committee to call a strike if necessary. The last major citywide strike by a UNITE HERE local took place in Atlantic City in 2004. That strike lasted 34 days, and the union won a historically good contract, according to the union.
[Related Content: Industry Coalition Forms to Fight Sexual Harassment]
Two major casino companies, MGM Resorts International and Caesars Entertainment Corporation, which respectively employ 24,000 and 12,000 union workers, have been positively responsive to the contract proposals on sexual harassment and safety buttons for guest room attendants.
"We are pleased on the progress in discussions with the companies about sexual harassment and safety," said Geoconda Argüello-Kline, Secretary-Treasurer for the Culinary Union. "We also want to make sure Las Vegas visitors know they have to respect casino workers and they cannot abuse them."
"We are here to do our jobs and provide incredible, world-class customer service for our guests," said Maria Landeros, a guest room attendant at the MGM Grand, MGM Resorts International property. "We are not here to be abused or have people think that just because it's Las Vegas anything goes."
Related Content: