Hire This Rubik's Cube Artist for a Fresh 'Spin' on Your Event
I guess I'm at that age. My peers are in their 50s or starting to celebrate their 50th birthdays. Time flies.
I'm also at the age when no one is asking for a '50s event anymore, or even a '60s or '70s party—ugh! The big ask right now is the '80s event!
Everyone is ready to celebrate the MTV era!
I have to say there are so many ideas from that decade that it's mindboggling, and I love it!
In particular, the Rubik's Cube craze is back with a vengeance at events via a colorful twist on that iconic puzzle from the decade of popped collars, leg warmers and big hair.
Hire a Rubik's Cube Artist for Your Next Event
I was recently at a venue doing a private The Hot List™ presentation for a sales team in Palm Beach, Florida, when a woman jumped up and exclaimed, "Oh my goodness! That is perfect for our '80s night!" And oh, was she was right.
Meet Giovanni Contardi, a 24-year-old Italian artist that has racked up 350,000+ followers on his Instagram page and even caught the eye of the celebrities he portrays in his one-of-a-kind Rubik's Cube art. His work has sold for thousands.
Giovanni is not alone in the Rubik's Cube art movement, but he is one of the best.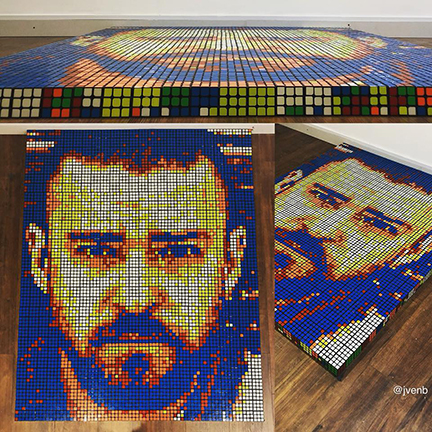 Justin Timberlake Rubik's Cube Portrait by Giovanni Contardi
Having solved his first Rubik's Cube at age 7, Giovanni began competing worldwide in his early teens, eventually winning the European Rubik's Cube Championship in 2010.
This Rubik's Cube expert is able to construct his masterpieces at events within a matter of hours using anywhere from 700 to 730 cubes. His fastest time is one hour and 40 minutes.
Giovanni has plans to create permanent installations throughout the world in the near future.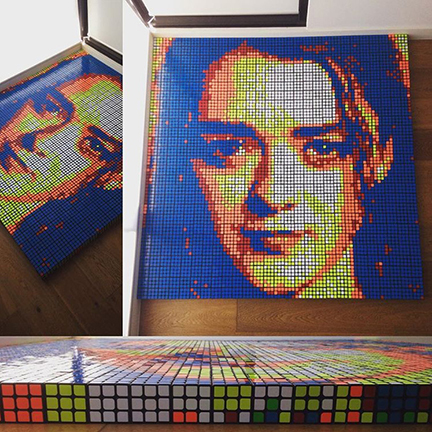 Arya Stark Game of Thrones Rubik's Cube Portrait by Giovanni Contardi
This is an incredible add-on to any event, and commissioning Giovanni to create a logo or image of a person is definitely a showstopper. Giovanni also loves to challenge others to solve the cube and he can even demonstrate his ability to solve a cube in under 10 seconds!
He also previously held the world record for fastest one-handed Rubik's Cube completion.
Check out this video of Rubik's Cube artist Giovanni Contardi in action.
As with all of my favorite finds, Giovanni Contardi's Rubik's Cube art is #mcapproved.
Stay tuned for more favorite finds from Michael Cerbelli's: The Hot List™ and Meetings Today, delivered to subscribers every other Monday.