Puerto Rico Announces Reopening Dates and Details
Puerto Rico will reopen for in-bound tourism on July 15.
The Caribbean destination and U.S. territory said it has thorough cleanliness measures in place island-wide that follow U.S. Travel Association (USTA) health and safety guidelines, along with locally enforced measures.
Discover Puerto Rico, the island's destination marketing organization, issued the following information regarding the island's post-shutdown status as it relates both to leisure tourism and the MICE segment.
Puerto Rico entered phase 3 of its COVID-19 recovery status on June 16, and restaurants and shopping centers are now operating at 50% capacity.
Beaches are currently available for groups limited to those in the same household. Museums and theaters have reopened.
Drive-in and open-air events have been allowed to take place since June 16, with indoor venues such as the Puerto Rico Convention Center scheduled to reopen July 1, with face masks and social distancing rules enforced in accordance with the CDC's guidance for large events and mass gatherings.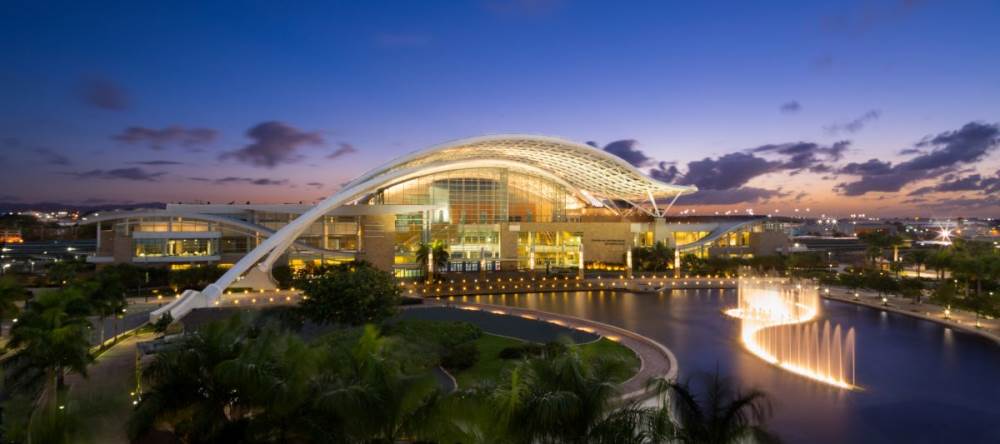 Photo: Puerto Rico Convention Center; Credit: Discover Puerto Rico
In addition, the ASM Global-managed Puerto Rico Convention Center is implementing a VenueShield Environmental Hygiene Program that applies protocols such as the use of PPE, food safety measures, air quality control, surface cleaning, physical/social distancing, temperature checks, thermal cameras, hand sanitizers, reduced touchpoints, contactless transactions, and daily monitoring systems, among other protocols, according to Discover Puerto Rico.
"As part of Puerto Rico's responsible four-phased reopening plan, we're excited to welcome back travelers and groups on July 15, when we formally reopen for inbound tourism," said Brad Dean, CEO of Discover Puerto Rico.
"We're already seeing open-air events taking place with limited capacity and social distancing, and we're excited to see indoor venues such as the Convention Center, the most technologically advanced in the Caribbean, reopening as of July 1."
[Related: COVID-19: Complete List of Coverage]
Discover Puerto Rico also said the new Distrito T-Mobile venue, which is now scheduled to open in the fourth quarter of 2020, is developing new safety and health protocols to adapt to the post-shutdown environment.
A core set of health and safety guidelines based on protocols from the CDC and the White House, and in consultation with public health authorities, has been issued by the U.S. Travel Association.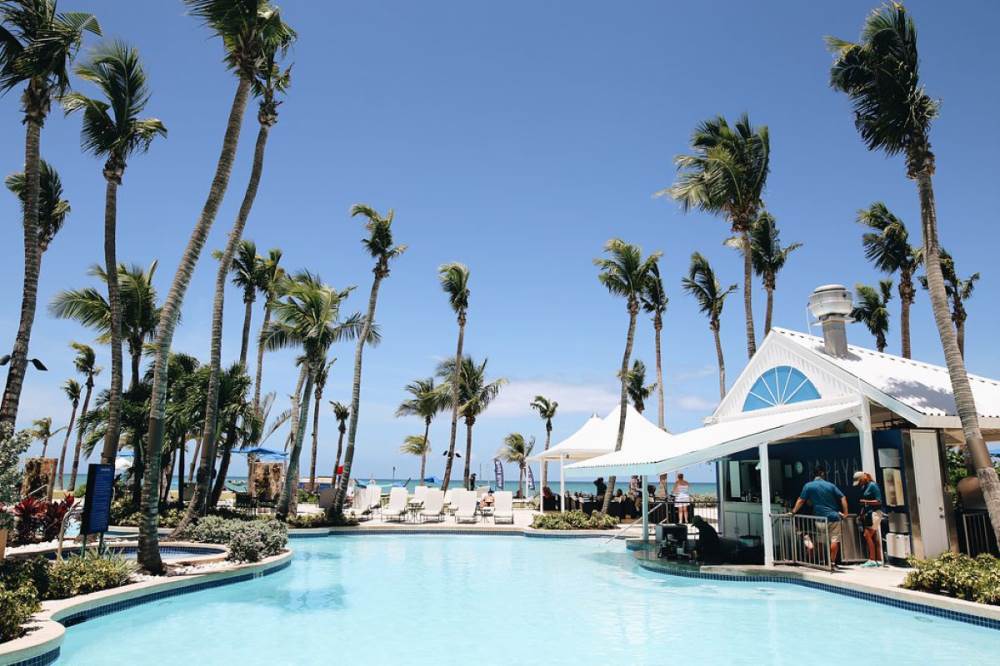 Photo: Courtyard Marriott Isla Verde; Credit: Discover Puerto Rico
Additional local safety and health protocols issued by the Puerto Rico Tourism Company (PRTC) include the following:
Airport arrival: Arriving passengers may be asked to self-quarantine for 14 days no matter the symptoms. Visitors should check the latest travel advisory and Luis Muñoz Marín International Airport's website for more information.
Transportation: Certified transportation carriers must disinfect vehicles and have hand sanitizer available for passengers. Uber is mandating face coverings for all drivers and passengers, with no front seat passengers permitted.
Lodging: Properties that are thoroughly sanitized and follow PRTC standards will be certified with a health certification seal. Hotels will conduct temperature checks, screen for COVID-19 symptoms and disinfect luggage, and also require housekeepers to follow CDC and EPA standards. Properties will also require face coverings for all guests and personnel in public spaces. "We've also seen the addition of innovative technology at lodging properties like that found at our Hyatt Regency Grand Reserve, which will add a UV light air purifying AC system to their restaurants and meeting spaces," Dean added.
Dining: Restaurants are operating at 50% capacity, and will move to 75% on July 1, with temperature checks conducted before entry; those with temperatures over 100.3 F will be denied entry. Employees are required to have face coverings, and social distancing protocols for seating will be enforced. Buffets, salad bars, and self-serve options, as well as reusable menus, are prohibited.
Casinos: Wellness checkpoints will be established at entryways when casinos reopen, with gaming stations cleaned and disinfected every hour and after each guest. Social distancing will be enforced, and face coverings will be required of all employees and guests.
[Related: 5 Nature Escapes in Puerto Rico]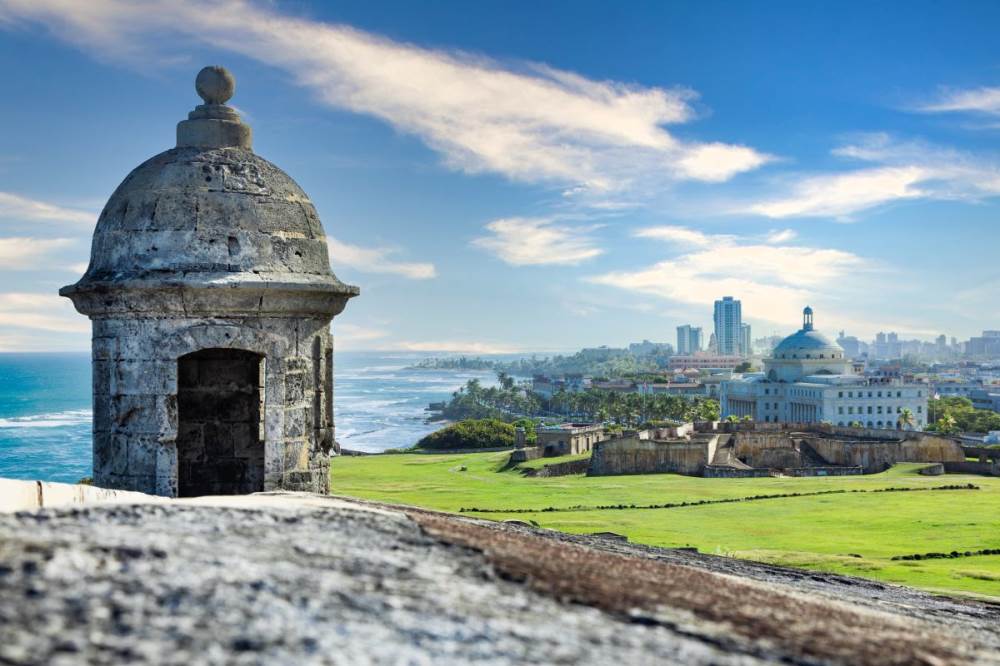 Photo: Viejo San Juan; Credit: Discover Puerto Rico
A full copy of the PRTC's Health & Safety Measures is available on its website.
"The array of nature-focused experiences and variety of meeting facilities in Puerto Rico—coupled with the value proposition it provides as a domestic destination while having international cultural appeal—make it an attractive destination for groups as we move into this next phase of live and hybrid meetings." 
Read next: Essential Contract Clauses and Concerns for Post-Shutdown Meetings and Events