A Virtual Birthday Box to Celebrate Your Team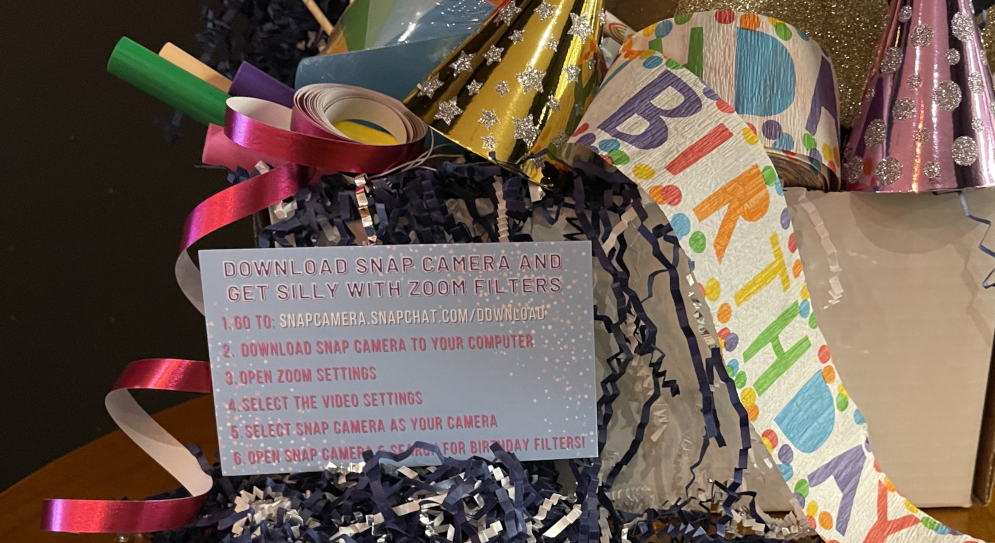 We made decisions as a team back in June 2020, and one that we needed to make sure we would follow was the COVID code of safety, and two, to get our butts back in the office.
We do so many virtual meeting calls with clients now and they are so surprised that we are back in our offices in NYC working every day. I never thought I would hear from clients and vendors that they were jealous we were together working (almost) side-by-side. Our clients are asking us to be creative, do something unique, have people engaged and make everyone feel connected to each other. 
We thought and asked ourselves what is something that every office has in common? A lightbulb went off and the ideas starting jumping off the page—we need to celebrate the office birthday party. Now we give each team member their special moment via Birthday Bash Boxes. 
A Virtual Birthday Bash
Overflowing with decor and party supplies, Birthday Bash Boxes include all the materials for virtual teams to celebrate together all year. These branded and custom kits include treats and embellishments for partygoers and the birthday guest of honor.
Here's how it works: A shipping box arrives on the doorstep of each team member's house or office. Enclosed are two specially branded boxes: the "Birthday Bash Box" and the "Special Day Box." Everyone immediately opens their Birthday Bash Box, which is filled to the brim with supplies for a party of one: a party hat, banners, streamers, balloons, confetti, noise makers and high-quality colorful decorations.
The Special Day Box
The "Special Day Box," colorfully wrapped like a birthday gift, is sealed and saved until the recipient's birthday. For each virtual staff meeting or birthday celebration, team members gather on a virtual platform to cheer and salute the birthday man or woman as they open their personal box of gag prizes and silly attire.
 Now you can give each employee their moment in the spotlight with the "Special Day Box." Hand-wrapped, tied with a bow and labeled with a custom gift tag, each box is personalized for the recipient. The standard format includes a hand-written birthday note, a card revealing their "spirit animal" and goodies for a birthday party of one: cupcake mix, frosting, candles, sprinkles, sweet treats and adorable desktop items.
You can also include a silly, quirky gag gift for some added funny moments, or an incentive like an uberEats gift card.
[Related: See How Top In-Person Event Entertainers Pivoted to Virtual in 2020]
A Sense of Togetherness
A shared experience is an opportunity to bond, celebrate and reward remote teams.
During the pandemic, many companies have grown and hired new employees while never actually meeting in person. Via this fun new option, companies can incorporate celebratory moments and silly decorations to break down barriers and bring back a sense of fun to the ever-boring virtual world. Sales associates, executives and managers will all look forward to the next birthday and the hilarity of watching a colleague open their birthday box to find a whoopie cushion and a Marvel pillowcase. 
What makes these birthday boxes different? Many party-in-a-box options exist and pre-made boxes are available for order at a moment's notice. Birthday Bash Boxes are a new, creative innovation to the DIY virtual party experience.
The brainchild of the creative minds of the Cerbelli Creative team, these boxes are custom made and uniquely branded to fit your theme, brand or quirky office banter. Each label, color scheme and box design are made to fit the culture of your team, and can feature your inside jokes and favorite slogans! 
Stay healthy, stay safe, and wear your mask.
Please sign up for Cerbelli Creative's inspirational monthly newsletter at eventstrong@cerbellicreative.com.
Read Next: How to Add Mind-Blowing Holopresence Tech to Your Virtual Events 
Contact
Cerbelli Creative 
212.256.1518
info@cerbellicreative.com