6 Questions for Former LVCVA Global Sales Leader Chris Meyer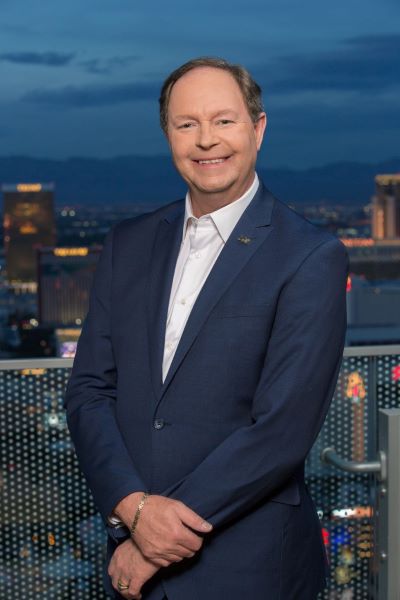 After two decades directing worldwide sales for the Las Vegas Convention and Visitors Authority (LVCVA), Chris Meyer now advises Destination Management Organizations (DMOs) and hospitality operators through his global consultancy Chris Meyer Global (CMG).  
Bringing nearly 30 years of experience in the hotel and meetings industries to the table, Meyer's innovative strategies include the "Prosperity Triangle" and other market-tested solutions. He spoke with Meetings Today senior contributor Jeff Heilman about how his geometric approach can help clients succeed in the emerging new global meetings and tourism landscape. 
Jeff Heilman: What is your value proposition? 
Chris Meyer: CMG provides value to clients by creating bespoke business models that generate meaningful business opportunities for economic development, business tourism and local chambers of commerce. When everyone is collaborating, the destination and the citizens of the communities will enjoy greater prosperity. 
Las Vegas has long been considered the leading destination for conducting business, and I have been fortunate to spend my career assisting the world's premier corporations in achieving their goals and gaining exposure to key markets. I plan to build on this momentum as the business landscape evolves, and I am always up to meet, and troubleshoot, any challenges along the way.  
What is the Prosperity Triangle? 
During my time with the LVCVA, we partnered with the Consumer Technology Association, producers of CES, to market Las Vegas to business travelers around the globe under the World Trade Center (WTC) brand. As executive director of WTC Las Vegas, I worked closely with different organizations over the years. Many expressed a desire to learn more about the initiative and global trade opportunities.  
The great majority of the nearly 6.5 million business visitors that came to Vegas from around the world in 2019 were new to the destination. By integrating economic development through WTC Las Vegas and our partners with the Las Vegas Metro Chamber of Commerce, alongside fostering our strong relationships within the business tourism realm, we produced what I will call even more serendipitous moments for each of these groups.
In departing the LVCVA after nearly 20 years, I realized that the business model we had developed through WTC Las Vegas had three distinct characteristics. Since the equilateral triangle is a vital structure, I named this innovative concept the "Prosperity Triangle" and built a bespoke business model for other destinations to scale this model and establish relationships that will lead to success. 
How do you adaptively scale for the specific needs of markets of different sizes and with varying economic development entities? 
No two destinations are alike, and each destination goes through a three-step process of assessment, deployment and then learning and adjusting. The best thing about the model is each destination will eliminate the "stay in your lane" mentality of the pre-pandemic world. Tourism is known as the "first date" of economic development. My clients experience a fresh set of eyes that will develop, coach and deploy their model in a timely manner. The great thing about this model is it can be deployed quickly, and results will be immediately apparent. Each destination creates its own set of unique and thoughtful Key Performance Indicators (KPIs).  
[Related: Why 3 Veteran DMO Execs Joined Forces for Tourism and Destination Recovery]
How do collaborative relationships play into your model?  
Alliances are integral to the CMG approach. Based in Denver and Atlanta, Total Hospitality Industry Solutions (THIS) is a sales and marketing organization representing DMOs and hotels worldwide. I have known CEO Gary Schirmacher and President Ray Ezelle for years. Both are industry leaders whose core beliefs, based on trust, collaboration, and most of all, stewardship for destinations, spoke to me. It was a natural fit to partner with them to help DMOs of all sizes learn how the Prosperity Triangle can be an asset to communities and create collaboration and synergy to drive more business. 
Developing understanding of growth goals within a community is paramount to success. Ray said it best: "When destination marketing, chambers of commerce and economic development entities work together, good things can happen." 
Citing the record return of international travel and tourism growth following 9/11 and 2008, respectively, U.S. Travel Association President and CEO Roger Dow has expressed his confidence that travel, like a "coiled spring," is poised for energetic rebound and recovery. What do you see for the return of leisure and business customers? 
First, travel restrictions must be lifted. I think we will have a snap back effect but only when travelers can demonstrate they have been vaccinated and this information is documented in your health passport. Ideally, this will be part of every travelers' journey, starting with international travel and then moving to a domestic requirement. I think that the third quarter of 2021 will begin a measurable snap back as we approach this upcoming spring. 
THIS has been active with the Southeast Tourism Society (STS), which represents 13 Southeastern states along with the District of Columbia. According to Gary, feedback from STS communities makes it clear that leisure drive business is steady, and that people want to get out and experience something different with their families. Locations that are perceived as safe and "open for business" are getting leisure traffic two to three nights a week. 
As the Meetings Means Business coalition arose in response to negative and misleading headlines that seriously undermined the perception of the meetings and events industry, the post-pandemic horizon ahead offers a renewed opportunity to remind the world about the power of business travel and face-to-face meetings. What can major industry players like yourself do and say to make the most of that opportunity, even now? 
Do you want to continue to sit in front of screens and watch the world go by, or would you rather make a unique human connection and experience serendipity at its best? Evangelizing face-to-face events is simple now because people have been deprived of social and business events for almost a year. People crave safe travel, and there is pent-up demand for those experiences.  
It is critical for the industry to provide a different path of value verse doing the same old thing. Planners and event organizers need to work together to develop compelling content that will incite businesses to support and attend critical events. The world has changed, and the way we network and create connections needs to adjust accordingly. It is important to reflect and ask ourselves, "What have we learned and how do we apply this knowledge?"   
Read This Next: Las Vegas Sets Foundations and Strategies for Recovery