How to Stage Jaw-Dropping Event Talent Without Busting Your Budget
So I just got done hanging with the whole Meetings Today team in Toronto at the 2019 MPI World Education Congress (WEC)—what a blast!
We did a live show of Michael Cerbelli's: The Hot List™: 2019 to a packed house of almost 3,000 attendees. It was a roller coaster ride of non-stop excitement for 120 minutes of live acts, products, music and laughs!
It also provided an opportunity for me to show how meeting and event planners can stage phenomenal acts without blowing a hole in their budget.
One of the things I spoke about during the show was the balancing of financial parameters for an event and how the "entertainment" often never gets a dollar associated with it.
On a tight budget, entertainment is often the first thing to get cut.
[Related Content: This Band Can Play ANY SONG Your Attendees Request]
I don't believe many people understand what the true value is for the right act or product, and what it brings to an event. Or even more than that, what name talent goes for and all of the extras associated with them—riders, staging, lighting, sound…
How do we balance all the costs associated with acts, performers or multiple acts? How do we get the most bang for our buck?
I have answers to all these budget-breaking questions—by highlighting one act in particular and how we shared the stage at WEC 2019.
This combined the variety of two acts for practically the price of one!
How Combining Acts Can Save Event Planners Money
In a few weeks I will share further details of our house band, Montreal Rhapsody Orchestra, an amazing 16-piece party band/orchestra that plays any style/genre of music.
The band tore up the stage at WEC.
But for this Hot List column, Montreal Rhapsody Orchestra is really the support act in the bigger picture of how meeting and event planners can combine acts to save entertainment budget money while still staging a top-shelf experience.
With that, let me introduce you to Scott Keo: The Number One Michael Bublé Tribute Artist.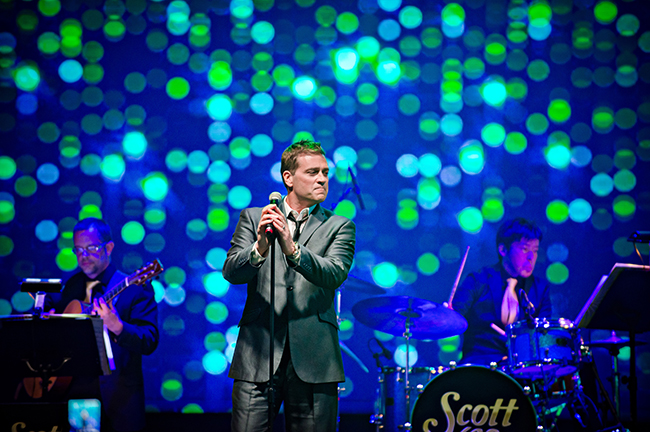 Scott Keo: The No. 1 Michael Bublé Tribute Artist
Want to book Bublé? You better have a seven-figure budget!
Want to book Scott? If you look at the bottom line for hiring Scott you will smile.
Scott's act can be scaled anywhere from him performing by himself all the way up to a full orchestra if you book directly.
For WEC 2019, we wanted to take Scott to the next level while not having to fly in another 12 musicians, so we took his song tracks and sent them to Montreal Rhapsody Orchestra.
[Related Content: This High-Energy Ensemble Will Blow. You. Away!]
Montreal learned them during their standard rehearsal, did a sound check the night before with Scott, and on the day of the WEC show blew the roof off the place! So by adding just ONE person, and some extra rehearsal time for the band, we staged TWO shows.
Being creative with acts is something I love to do, and this resulted in a mashup of talent that brought multiple layers to the event.
The Hardest-Working Bublé Tribute in the Events Business
A little about Scott Keo. Everyone knows Michael Bublé's music goes hand in hand with top-shelf liquor and the finest wines.
Other than Michael himself, no one brings that music alive like Scott Keo: The Number One Michael Bublé Tribute Artist! Only the very best for your VIPs, high-end galas, incentive travel programs, awards dinners and corporate groups!
[Related Content: AFISHAL Will Tear the Roof Off Any Event]
Scott brings that amazing big band luxury "feel" to every corporate event he and his band perform for, around the world. No cheese, no gimmicks—just a pure early '60s-era Sinatra big band vibe with a unique, modern Bublé punch throughout the night.
Safe and reliable. Fun and fresh. Classic cool.
If you want to impress the guests at your next event, Scott Keo is a great choice.
I love creating event moments with energy like this, so let's collaborate! You will be surprised how you can create a jaw-dropping moment and not destroy your bottom line.
Watch a highlight reel of Scott Keo in action in the video below.
As with all of my favorite finds, Scott Keo is #mcapproved.
Stay tuned for more favorite finds from Michael Cerbelli's: The Hot List™ and Meetings Today, delivered to subscribers every other Monday.